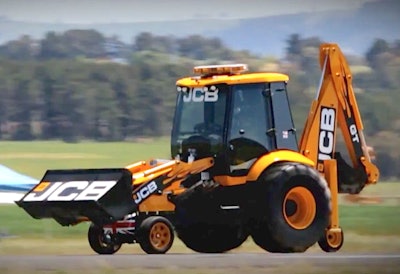 Just about anyone who's familiar with backhoes is familiar with the JCB GT. For more than 20 years, the JCB side project has been thought of and touted as the fastest backhoe in the world, but the UK company wasn't satisfied with that.
Instead they decided to go straight to the Guinness Book of World Records to make it official.
Independent record officials named the GT the fastest backhoe in the world after traveling to Sydney, Australia, and watching the machine reach a speed of 72.58 miles per hour—more than 4 mph over the threshold Guinness set for the record. The backhoe is able to achieve such a huge speed thank to roughly 1,000 horsepower powering it along and the supercharged 454 Chevrolet Big-Block V8 engine. It's also very lightweight with the loader and "digger end" being aluminum, JCB says.
You can see the record-breaking run in the first video below. The second video shows another run at the Bathurst 1000 speedway in October where the machine achieved a speed of 69.6 miles per hour.