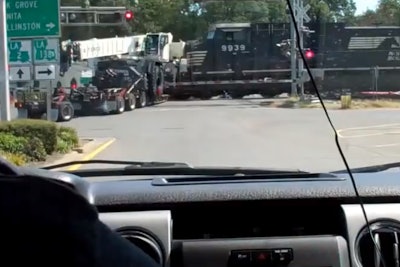 While attempting to cross railroad tracks in Mer Rouge, Louisiana, a truck hauling a crane became stuck on the tracks and was hit by a freight train Sunday afternoon. The scary collision was caught on camera by a woman stopped at the tracks behind the truck and posted to YouTube.
As you can see in the video below, the train smashes through the truck and then derails. "Holy mother of moo-moo," indeed.
According to the West Monroe News-Star, no one was killed though two engines and 12 train cars were involved in the wreck.
The driver jumped from the cab of the truck before the collision and was uninjured. Two of the train's engineers were were hospitalized with serious injuries, one with a compound fracture and the other possibly with a fractured spine, according to the paper.