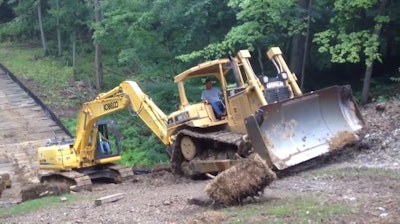 Steep grades and loose terrain can be formidable foes for heavy machinery on their own. So it's no surprise that combining the two with both an excavator and dozer needing to reach the top creates quite the puzzle for all involved.
The video below is a bit long but provides a pretty interesting watch. We'd suggest skipping ahead to around the 2:50 mark. After attempting to go on its own, the Caterpillar D6 enlists the help of the Kobelco 170 excavator behind it. But once his buddy the D6 finally gets on his way, the excavator must make it to the top on his own, initially giving himself a few pushes with the bucket before turning toward the peak and slowly clawing its way forward.
It's been suggested by several YouTube commenters that these machines could use new tracks or just some grousers while others have said the terrain is too loose anyway. What do you think? Did the operators do a good job or would you have done this climb differently? Critique and discuss away in the comments below.
[youtube N7y8r6xcUJs nolink]