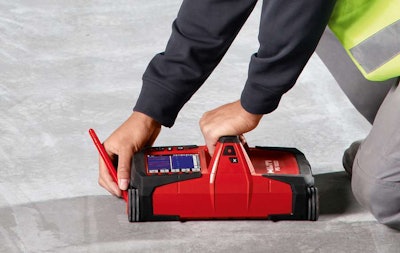 Building on products introduced two years ago, Hilti has added exportability to its PS 1000 X-Scan and PC 250 Ferroscan detection tools.
These tools allow contractors to inspect and analyze steel-reinforced and pre-stressed concrete structures, especially useful in remodeling, structural repair or renovation and seismic retrofitting projects.
The Ferrozcan reveals ferrous objects, rebar diameter and depth of cover information, while the X-Scan reveals object target information from deeper detection ranges, in addition to electrical current sensor data
Users are now able to import their scan data from jobsites in various design formats such as DXF, COLLADA and X3D. This scan data can also be imported into popular CID programs such as AutoCad and SketchUp, and be labeled with building coordinates and drill hole markers.
The software enhancements also allow one document to be viewed from information gathered from Ferroscan and X-Scan. Hilti says this allows easy object target classification and accurate depth calibration.
Radar and electrical current data can be overlayed on the same image in 2D and 3D data visualization. Reinforcing bars, baskets and post tension cable positions can be located and marked, and/or recorded for retrieval later.
In the video below, Ron Oberlander with Hilti explains the changes.
[youtube mki1H5DBhU4 nolink]