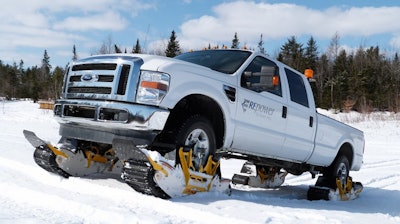 Welcome to the future, friends.
Tracked trucks are fun. Beyond looking awesome, they make driving in snowy or muddy conditions an actual possibility. They're also pretty expensive and take a considerable amount of time to install making them an nonviable option for those professionals and fleet owners who need to switch between tracks and tires.
And for the everyday consumer they're even less viable. So they've been stuck with just chains and snow tires.
That's where the Track N Go system comes in. This wheel-driven track system installs over the tires of 4 x 4 pickups in less than 15 minutes. You don't have to lift it, take it to the shop (or your own shop) or even take off the tires. You just unload the four tracks and drive onto them. Check out the video below to see how quick installation is and what the tracks are capable of.
[youtube XwpKjEa4LYY nolink]
The system does have a considerable list of vehicle requirements. You're going to need a 4 x 4 pickup with an automatic transmission with LO and HI modes, equipped with winter tires with a regular soft compound. The truck should also have a leaf spring suspension and a differential automatic lock on the rear axle.
As far as price, here in the U.S. Track and Go systems will be sold directly from the manufacturer and will cost $25,000.