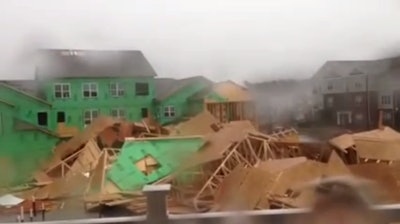 With a high gust of wind, an entire unfinished building at a condominium complex under construction in the Brier Creek neighborhood of Raleigh, North Carolina, came crashing down last week.
Photographer Ed Braz, who typically uses his camera to capture amazing moments between animals and other wildlife for National Geographic, just happened to be filming out of the window of his home when the building collapsed. Thankfully no one was injured from the collapse.
Wind gusts in the Raleigh area that day topped out at 86 miles per hour, according to a report from newsandobserver.com. Pennsylvania-based construction firm Toll Brothers, one of the largest builders in the country, released a statement to the site saying it isn't fair to judge quality of construction by such an event as the building was in a very early phase of construction.
"Structures that are in such an early phase of construction, such as the portion of the building at issue here which did not yet have the benefit of all of the intended structural bracings and support, are not capable of withstanding the extreme (80+ mph) winds that were encountered on Saturday," the company said in a statement emailed to newsandobserver.com.
You can watch video of the collapse below. Below that footage is another video of the cleanup.
[youtube 5t9MpNTSbYg nolink]
[youtube 8AND3eXeB04 nolink]