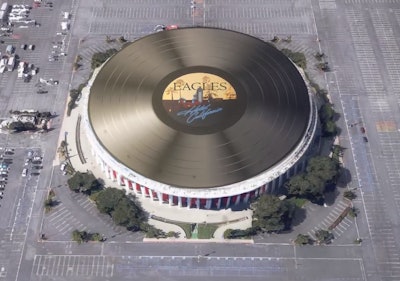 You've probably played, or at least seen, a 12-inch vinyl record. But what about a 4,884-inch vinyl record?
That's what is spinning atop the newly-renovated Forum in Los Angeles at this very second. Specifically, The Eagles 1977 hit album Hotel California.
The 407-feet-in-diameter record spins at a speed of 17 miles per hour and weighs 25 tons. It's composed of 1 mile of aluminum framework, more than 250,000 square feet of vinyl and 15,000 LED lights.
It took a crew of 75 construction workers about 10 days to complete the project and the record can resist winds up to 80 mph.
The record spins top the building to promote a string of six performances by The Eagles starting Wednesday that will re-open The Forum which has undergone a $100 million renovation.
[youtube MUPhVjnFHdY nolink]