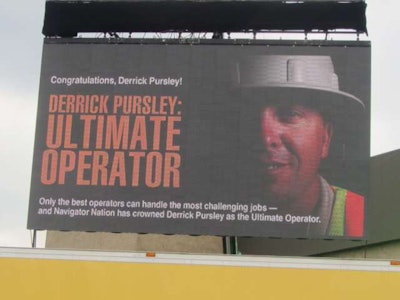 Following a year-long social media campaign, Vermeer named Derrick Pursley the "Ultimate Operator" of horizontal directional drilling at ICUEE 2013.
Pursley submitted the winning video to Vermeer's Navigator Nation operator appreciation campaign, beating out more than 100 videos entered.
"We pride ourselves that we don't leave until the job is done," said Pursley in the video, which you can watch below. "We work with expensive, high-tech equipment. The thing I enjoy most is the sense of satisfaction you get when you complete the job."
Before joining the construction industry as an HDD operator, Pursley says he was a professional golfer for three years. "Big change," he says.
"In this industry each day is different," added Pursley in the release announcing his win. "I continuously learn something new. I've had jobs in the past where I didn't want to go to work, but I've never had that feeling in this business. I enjoy what I do, and I'm proud to do it."
A native of Andrews, Texas, Pursley graduated from the University of Texas at El Paso with a degree in business management. After plalying professional golf for three years, he joined pipeline and utility contractor West Texas Boring Company in 2001. He now lives in Odessa, Texas.
[youtube Rlgn7cQGT2A nolink]