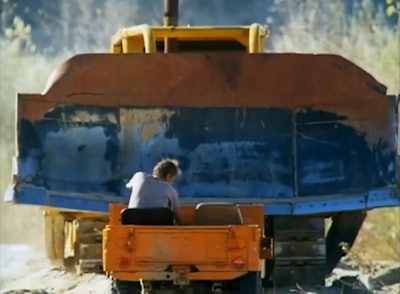 Our friends over at Ritchie Bros. Auctioneers have done a very nice thing for you. They've rounded up the top five movies where heavy equipment and trucks are the stars.
The whole list is worth checking out, so hop on that. But we're mostly excited that the list gave us an excuse to watch 1974's so-bad-it's-great classic "Killdozer." According to IMDB, "Killdozer" is tells the following story: "A small construction crew on an island is terrorized when some strange spirit-like being takes over a large bulldozer, and goes on a killing rampage."
Unsurprisingly, this was a made for TV movie. Here is the ad that ABC ran to convince people to watch it.
[youtube 7pS0bcBQl_o nolink]
"We don't know anything for a fact" except that this might be our favorite commercial ever. (See what we did there?)
And if you feel so inclined, you can watch the movie, in its entirety below. But be warned, it's terrifying(ly bad).
[youtube 1r3y-SRsNPI nolink]