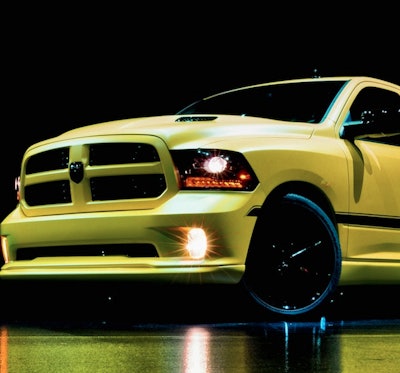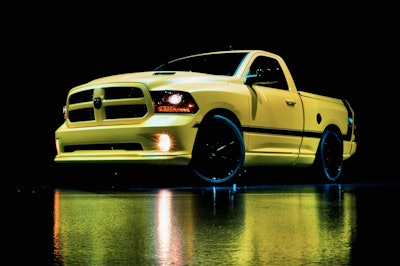 Choosing a timeless classic car event in Detroit as its stage, Ram unveiled a concept truck that immediately grabbed the attention of those attending the Woodward Dream Cruise this past weekend.
It's easy to see why. For starters, the Ram 1500 Rumble Bee concept is coated in a unique, matte paint color Ram calls "Drone Yellow" and sports 24-inch wheels and a lowered stance. Beginning at the headlights and fading into a honeycomb pattern as it runs over the truck bed is a black racing stripe.
[youtube Ll7qcG26Wjo nolink]
The grille, hood vents, Ram badges, fuel door and dual exhaust tailpipes are all a gloss black that stands out beautifully against the yellow. It's a striking truck to say the least.
This special Rumble Bee concept was designed for the 10th Anniversary of the first Rumble Bee which rolled off the assembly line in 2004. Ram began the Rumble Bee program as a tribute to the 1960s-era Dodge Super bee as a way to "explore what a performance truck could be."
For this concept Ram designed a new Rumble Bee logo called "Speed Bee." The Speed Bee is found on the exterior and stitched on the interior of the pickup along with black and Drone Yellow leather sport mesh seats.
At its core, the new concept is a tricked-out, two-door 2013 Ram 1500 R/T. It's powered by a 5.7-liter HEMI (with custom yellow and black engine cover, of course) pushing 395 horsepower and 407 lb.-ft. of torque, mated to a TorqueFlite 8-speed automatic transmission. A Mopar cold-air intake system is there as well as a 4.10 gear set.
But the detail that got the attention of most folks at Woodward was the truck's 8-speed rotary shifter knob. The knob lights up with a honeycomb pattern and inside is an actual bee incased in amber. Even more impressive are the two buttons below that knob. With a press, the cat-back dual-exhaust is bypassed and the full growl of the truck can be heard. Be sure to check out the video above for a demo.
At this point, the Rumble Bee concept is not planned for production, but Ram says it would consider making this dream a reality if the customer interest is there. You can tell them how you feel over at the Ram Zone.