Volvo Construction Equipment
Editor's Note: This story was updated January 31, 2023, with new information.
The flagship of Volvo Construction Equipment wheel loaders, the 56-ton L350H has been upgraded to increase productivity, fuel efficiency, and profitability, the company says.
Complete with a host of upgrades that will give customers greater productivity and fuel efficiency with lower service costs, the loader is designed for a range of heavy-duty applications from heavy infrastructure to mining and quarry projects. It will be showcased at 2023 ConExpo-Con/Agg.
"For decades, the L350 has been our flagship loader," said Eric Yeomans, product manager, wheel loaders, Volvo CE. "We've taken a tried-and-true machine and built upon the features that have made it one our customers rely on day after day. These upgrades make it even more efficient and productive."
Volvo says it built on the success of the L350H's forerunners, dating back to the L320 in 1985, with some notable improvements.
"The big difference between this L350H compared to the existing one is the new drivetrain, new transmission, and new axles," Yeomans said, noting that the new features in those axles including a dry parking brake on the RVB reverse vibration by braking of the shift are very dramatically going to improve fuel efficiency.
Production pressure
One of the more notable improvements on the updated 540-gross-horsepower L350H wheel loader according to Yeomans is a more responsive hydraulics system featuring new lift and tilt cylinders.
"We identified that we need we wanted to increase productivity and where you can do that is by reducing the cycle time," he said. "We basically changed the diameter of the cylinders and increased the hydraulic pressure, so you maintain the same breakout forces and hydraulic force but now you've improved the cycle times by increasing the speed of the lifting, lowering, and dumping functions."
With 10% faster work cycles, the updated loader offers higher productivity.
"Everybody knows if you can reduce your cycle time, you're going to improve your productivity," Yeomans said.
Also, he noted that the upgraded driveline features new Volvo axles and Volvo transmission, which enables the third-generation OptiShift to be equipped as standard. Already featured on Volvo L110H to L260H wheel loaders, this technology integrates the reverse by braking function and the lock-up function in transmission to boost fuel efficiency by up to 15%.
Yeomans said efficiency is further enhanced by an optimized gear shifting ratio and the new converter, which delivers higher outputs resulting in up to 22% more tractive force depending on selected gear and machine speed.
The machines boast an even more robust upper center hinge bearing and updated frames to accommodate the new axles and transmission providing a longer service life and durability.
Yeomans said the L350H comes equipped for heavy-duty applications as standard.
The Z-bar lifting arm includes double sealing on each of the pins, and frame structure, which is joined by a reinforced upper center hinge and new Volvo axles. Customers can take advantage of specialized packages that come with specific features for log loading, rock loading, rehandling, block handling, or slag handling.
"The lifetime warranty that we have on the front frame the rear frame, articulation, and boom is unique to Volvo," the product manager said.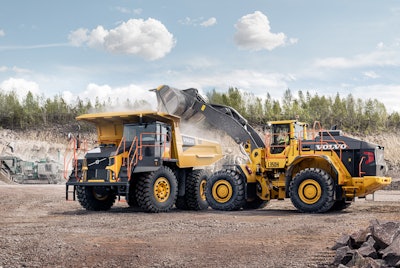 He noted another feature Volvo now includes on the L350H is a 1,000-hour service interval on the engine.
"That is going to improve your total cost of ownership," Yeomans said.
In addition, Volvo adds a fuel efficiency guarantee to the machine.
"We're guaranteeing your machine will not use more fuel than what's identified in the fuel efficiency guarantee," Yeomans said.
The company has even upgraded the service intervals on the machine. Overall, service intervals are doubled to 1,000 hours for the engine and 4,000 hours for the axle oil change, due to the axle oil cooler with filtration fitted as standard.
In addition, Yeomans said customers can further minimize machine downtime and increase component life with other features including heavy-duty axles with fully floating shafts, planetary hub reduction, and maintenance-free rear axle trunnion bearings.
Telematics connectivity and established features, such as the Load Assist suite of apps accessed from the in-cab Volvo Co-Pilot display, further improve efficiency and uptime with regular use.
Yeomans said a new feature coming is Connected Map, which works by extracting the positioning data from machine telematics or Android/IOS devices with SIM cards and uploading it to a cloud-based Volvo platform.
"It gives you as a customer the ability to track and monitor your production while sitting in the office because all the data can be sent directly from the machine to the portal so you can track your fuel efficiency, productivity to where the machines located, you can track all that now from the machine live," he said.
Overloading, underloading and waiting times are a thing of the past with the onboard weighing app, providing real-time insight into the load of the bucket and payload of the load receiver, Yeomans said.
In addition, he said the optional tire pressure monitoring system enables the pressure and temperature of the tires to be checked from the cab, extending tire life, and saving on fuel consumption.
A portfolio of complementary Volvo Services – including Productivity Report, EcoOperator training, and ActiveCare – also provides insights into ways to improve efficiencies. The Operator Coaching Advanced app provides real-time information and guidance to operators, helping them to be more productive and fuel-efficient, as well as reducing machine wear.
Comfort plus
The upgraded L350H provides the same cab as previous machines. It features standard remote-controlled door openings, air-conditioning, and a secondary steering system. Good visibility is complemented by optional electrically adjusted, heated rearview mirrors, a rearview camera, and a radar detection system.
Operators can configure the machine according to the job with a choice of three hydraulic modes, customizable lockup engagement, and rimpull control, while the bucket-leveling function automatically returns the bucket to level, from both dump and curl positions, helping to reduce operator fatigue.
Quick Specs L350H
Static tipping load at full turn 75,927 lbs.
Bucket capacity: 8.11–16.6 yd3
Operating weight: 110,231–124,120 lbs.
Breakout force 102,738 lbf
Engine: Volvo D16J
Max. power at 1,800 r/min.
SAE J1995 gross 532 hp
ISO 9249, SAE J1349 net 530 hp
Max. torque at 1,400 r/min
SAE J1995 gross 1,881 lbf
ISO 9249, SAE J1349 net 1,868 lbf
Tires 35/65 R33, 875/65 R33