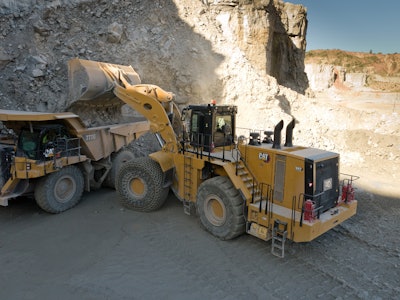 Caterpillar
Cat has some large numbers to go along with the latest update on its third-to-largest wheel loader, the 992.
Compared with its predecessor, the 992K, the 992 offers up to 32% more productivity and up to 48% greater payload-per-fuel efficiency, Cat says. It also reduces maintenance costs by as much as 10%.
Let's unpack those numbers. The up-to-48% greater payload-per-fuel-efficiency number comes from Cat's field tests that four-pass matched the loader with a 100-ton truck versus five passes with a 992K. An on-demand throttle mode also adds to this number.
Productivity increases have been achieved through a new Z-bar linkage, plus improvements to rimpull (up to 9.5% more) and breakout force (up to 20% more).
The bucket fill factor has increased by 10%. This has been achieved by setback and strike plane angle improvements, a longer bucket floor and a stronger and larger bottom section. In addition, taller side plates with a level top surface improve visibility beyond the bucket edge to the material pile.
To slow the machine on grade, new standard automatic retarding controls disable the impeller clutch, enable the lockup clutch and use the implement and fan pumps. An optional advanced automatic retarding control has an engine brake that fully controls the loader's speed on grade, Cat says, and maintains the desired hold speed.
New with this 992 introduction is a material handling package that puts additional counterweight on the loader so it move more material, says John Marek, product application specialist, large wheel loaders.
"It's basically taking the capability that was always there and instead of using it to work through a tough dig application, you're using it to move more material," Marek says. "That helps bring the cost per ton down."
Productivity options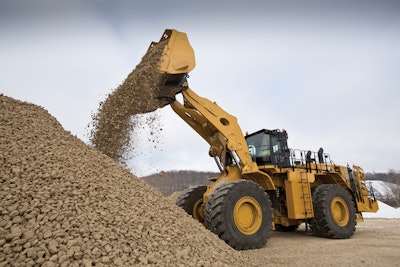 Also optional is a new Autodig that Cat says reduces tire wear while improving productivity and efficiency. "It's taking the most difficult parts of the truck load operation and doing some of those for you," Marek says.
A tire slip prevention feature reduces rimpull before the tires are set and increases rimpull when downward force is applied.
The tire set function detects contact with the pile, automatically lifting against the pile to set the tires and increase traction. A lift stall prevention feature automatically manages rimpull in-dig, preventing hydraulic stall while lifting through the face. This allows the 992 to spend less time in the pile.
Using the new optional Payload Overload Prevention users can avoid the risk of overload while still matching a large enough bucket to achieve a target pass-match in a variety of material densities. Operators can adjust the overload value based on the target payload; it can be set to automatically stop or slow the lift function when the overload value is exceeded.
"You can confiture a bucket to work in multiple densities without worrying about overload when you move to higher density material," Marek says.
50% more legroom
Taller cab windshields increase the glass surface area by 25% compared with the 992F and provide 10% greater visibility, Cat says. Legroom has also increased by 50%, including more width by the knees.
All of this was accomplished without growing the 992's size, Marek says. "In fact, it's a bit shorter. So if you're having success with this size machine today, you can continue to use it for the same job and get even better results."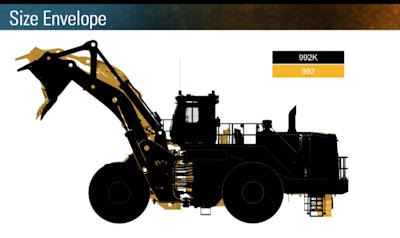 Electrohydraulic speed sensing steering with force feedback provides operating comfort. Two 10-inch color LED monitors display machine control and operating functions, and a separate 8-inch screen shows the rearview camera feed. This can be upgraded to an optional 270-degree vision and object detection system.
10% lower maintenance costs
Cat says several improvements have led to up to 10% lower maintenance costs, including automatic lubrication to the Z-bar linkage pins, which also have heavy-duty guarding. Each machine side has two large openings for quick access to the cooling package, reducing cleaning time.
The machine's service center has been relocated to the left side of the machine, along with the fuel tanks. Fluid sampling ports can be accessed from ground level; filters are organized by type and change interval.
The loader displays the remaining useful life of the engine air filter, allowing more convenient servicing.
Cat also offers Operator Coaching to train operators in proper operating techniques, including how to shorten travel, avoid unracking in-dig, enter the pile with a level bucket, reduce the dump height and use the kickout.