Ditch Witch has reinvented the ride-on vibratory plow with its PT37. The dedicated plow with an optional trencher, reel carrier or hydra-bore configuration was reimagined mostly through customer feedback.
"The PT37 is based on a proven vibratory plow model that has been the preferred choice of many contractors for decades and remains in high demand for fiber installation," said Brant Kukuk, Ditch Witch compact equipment product manager. "It combines the simple design and operation that users want with the next-generation innovation." 
The machine is a simple, compact utility machine ideal for irrigation and telecom projects.
"A guy that's going to install drops or fiber or irrigation all day, every day, this is the machine for them," Kukuk said. "It's designed and built to plow."
The standard feature of the PT37 is the dedicated plow for irrigation and fiber installation. Kukuk said the plow is designed to provide down pressure to maintain consistent plowing up to 24 inches deep in a variety of conditions.
"You can put different style blades on the back end, feed blades, pull blades, depending on the product you're installing," he said. In addition, there are three different options for the front end of the machine: a reel carrier, a hydro bore, which is designed to bore under driveways or sidewalks, or a trencher.
"You can go up to 6 inches wide on the trencher and 2 or 3 feet deep depending on what kind of starter hole you want to make," Kukuk said. "Typically, they'll use the trencher to start a hole and then to turn around and put the plow on the product and in that starter hole and then start plowing."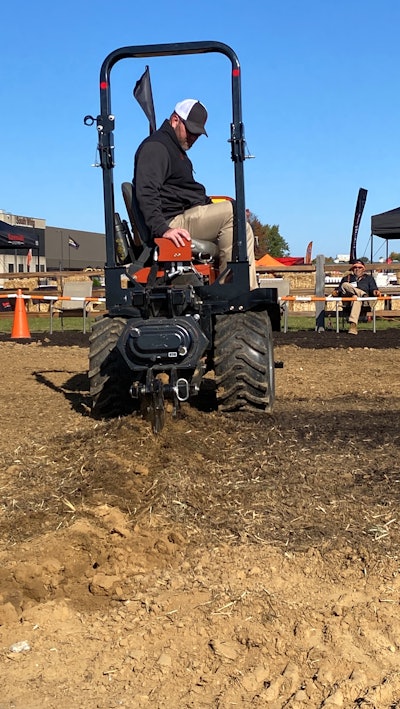 Just dig it
Ease of use was at the forefront of customer feedback. Kukuk noted that the customers have continued to ask for simplified mechanical controls. The product manager said the PT37 is largely mechanical and features a simplified control display.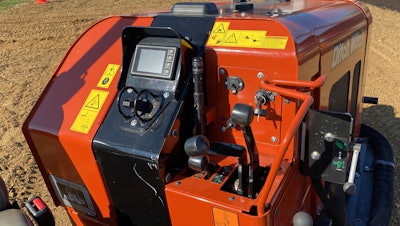 "That's a big part of this product," he said. "What we kept very classic is the controls on this machine. They're very similar to the older generation machines. They're still mechanical, they're not electric over hydraulic, so you don't have any of the troubleshooting issues that you would with an electrical system on this machine; it's all directly linked to the pump."
The PT37 is powered by a 37-horsepower Yanmar diesel engine. For a more comfortable ride, engine heat is designed to be pushed away from the operator. 
"The other customer feedback that we kept in mind was they wanted steel enclosures for the engine compartment because there are precious harness units inside that we are trying to protect," Kukuk said. "We kept that engine bay enclosed with steel panels to protect all the internal controls."
For comparison purposes, he notes that Ditch Witch offers the 410SX vibratory plow. "That's a walk-beside unit, a very similar type of product articulated with a dedicated plow. What the PT37 gives you is the operator comfort piece. If you're doing long-distance work and you're doing it all day, every day, you can step up into the PT37 and get that operator comfort right on the machine."
An adjustable side-facing seat allows operators to see all four tires and the plow box.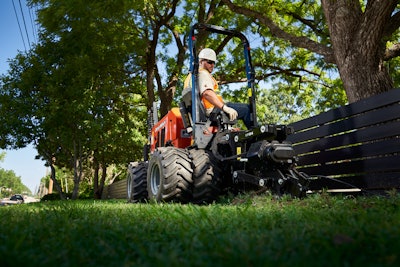 Also, the machine offers different tire configurations with narrow, standard and dual options with 23- or 26-inch tires. Kukuk noted that the 23-inch tires bring the machine down to approximately 36 inches wide, allowing for passage through yard gates. With the ability to scale down to just 36 inches wide, the machine maintains an overall compact footprint that allows it to access tighter workspaces. 
"We can get this tractor from under the 36-inch mark to about 66 inches wide depending on what tire configuration you have," he said. "Depending on if you're going to be doing backyard work or countryside work, you can configure the tires how you need them."
If you've set up in the dual-tire configuration and that won't fit where you need to operate, you can change to single-tire configurations in the field.
"You put a dual wheel set-up on this tractor, it has only one bolt holding on the outside tire," Kukuk said. "You take one bolt off and you can take that outside tire off to get you into the narrow gate or other tighter locations."
The tires generally cost less compared to a tracked machine and help minimize the impact on properties. Kukuk notes that the dual-wheel configuration provides added traction and stability.
A folding ROPS was added based on feedback. "They don't have to take it off the trailer and put it into the garage," he said. "They just fold that down, get in the garage, and then in the morning, they're ready to go."
Quick specs
Operating weight: 3,400 pounds
Engine: 37 hp Yanmar 3TNV88-DTR4
Plow Depth: 24 inches
Trencher Depth: 24 or 36 inches
Width: 36 or 66 inches
Max height with ROPS: 87 inches
Length with plow only: 118 inches