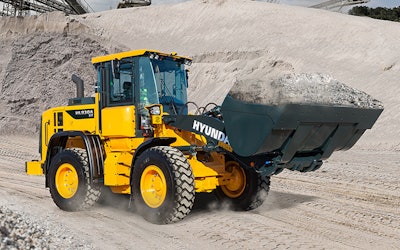 Hyundai
Now hitting dealerships, Hyundai's new HL930A wheel loader is part of the company's A Series, which is the culmination of its partnership with engine manufacturer Cummins.
The HL930A features a new Cummins Performance Series B4.5 engine designed to increase power by 10% and torque by 20% over previous engines while using less fuel. The 130-horsepower engine meets Tier 4 Final as well as European Stage V emissions standards with diesel particulate filter and selective catalytic reduction.
The ZF automatic four-speed power shift transmission is designed to deliver more torque, less heat generation, and better fuel economy than hydrostatic transmissions.
The standard HL930A has an operating weight of 25,595 pounds and 2.5-cubic-yard bucket. The bucket comes in smooth edge or tooth edge. The loader also features Hyundai's new parallel Z-bar linkage, which the company says has improved bucket and fork leveling.
Hyundai offers two other loader configurations:
The HL930A XT is an extended-reach version with a hinge pin dump height of 13 feet 1 inch, which is 14 inches higher than the standard Z-bar.
The HL930A TM is a Tool Master model, which has two bucket cylinders for parallel linkage instead of the Z-bar. It also features an ISO-style quick coupler and improved load visibility.
The HL930A comes with a new onboard weighing system in which icons display weighing limits and lights indicate weight value. An Eco Report shows operators ways to improve productivity and efficiency. And the Smart Power Mode reduces fuel consumption by adjusting engine speed during heavy-duty tasks, like digging, the company says.
The loader also comes with radar for detecting rear objects and also indicates whether those objects are moving or still.
The cab features an adjustable heated air-suspension seat, a tilting and telescoping steering wheel, auto-climate-controlled air conditioning and heat, Bluetooth radio, a 7-inch color touchscreen monitor, heated mirrors, a rearview camera and storage compartments. In-cab noise levels have been reduced to 68 decibels, Hyundai says. An emergency stop switch is located at the bottom of the seat. A remote-control door opener is an available option.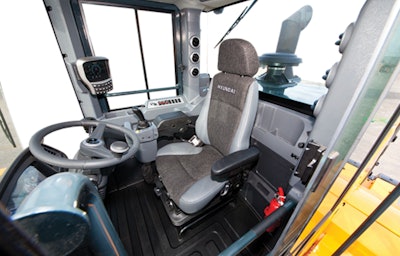 During a recent walkaround video (see below), Juston Thompson, senior product manager, points to the HL930A's class-leading axles that are designed for better stability, easier service and longer life. Other features include a hydraulic reversing fan that can be controlled with the in-cab monitor and service points that are easy to access.
The HL930A models come standard with a hydraulically actuated, auto-locking front differential for traction in slick conditions. The loaders are also equipped with ride control that can be programmed to automatically reduce bouncing when traveling.
Hyundai's HiMATE telematics is free for five years. It provides service tracking, operating data and diagnostic information via web and app. The loaders come with a three-year, 3,000-mile warranty and a five-year, 10,000-mile structural guarantee.
Here are some quick specs on the HL930A: