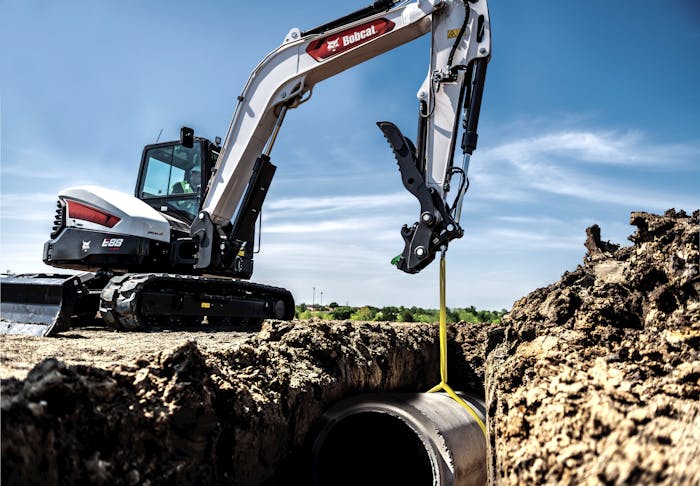 Bobcat
The Bobcat E88's undercarriage has gained heft, boosting over-the-side lift capacity of the new machine by 14% over previous generations, the company says. 
Dual-flange track rollers, integrated counterweight, extra machine weight and added track on the ground give E88 operators the ability to dig with greater confidence over the side of the machine, Bobcat says. Increased distance from sprocket to idler puts more track on the ground, helping prevent a rocking sensation while lifting heavier loads. 
The improved track design is easily maintained, and additional machine weight adds to productivity in tough digging and heavy lifting tasks. Even with all this increased heft, the conventional-tail-swing machine still has the narrow footprint (249.6 inches long by 86.6 inches wide) necessary for the jobsite maneuverability required of compact excavators.
Powered by a new 65.4-gross-horsepower Bobcat engine, the E88 offers improved cold-weather operation and ease of maintenance.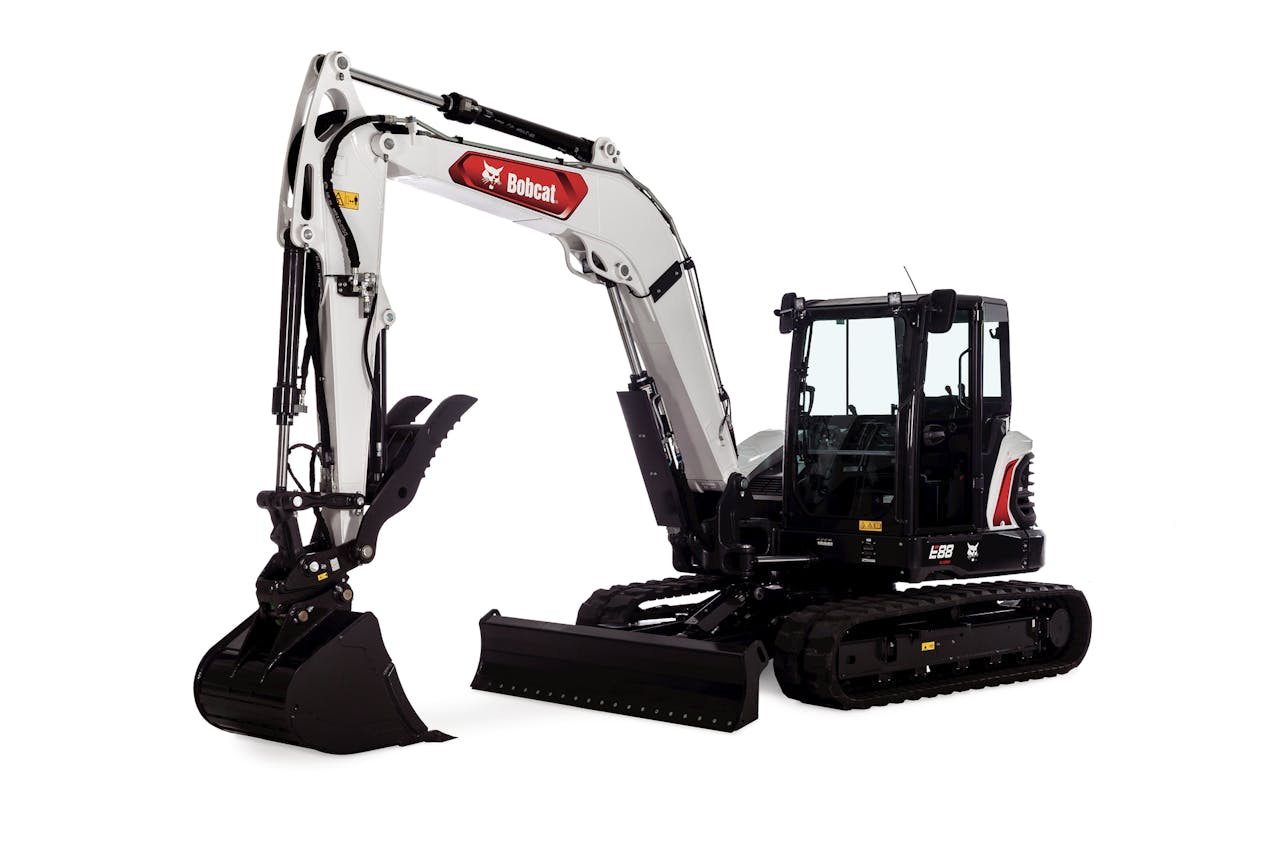 The Bobcat E88's improved track design is easily maintained and additional machine weight adds to productivity in tough digging and heavy lifting tasks.Doosan BobcatIn the cab, an optional high-back, heated seat with headrest provides added comfort, along with the optional automatic heating and AC system, which adjusts according to the cab temperature. The machine's low-effort joysticks coupled with a new hydraulic control valve offers operators improved metering, movement and controllability. Also standard is a password-protected keyless start and a basic subscription to Machine IQ, a wireless connection that allows you to check on the health of your machines and remotely track information.
Buyers can also opt for a waterproof 7-inch touch display that Bobcat calls "the most advanced compact equipment in-cab display available."  Operable with gloves on, the display can also connect to mobile devices via Bluetooth.
Another option is the angle blade, used for backfilling and grading. Operators can angle the backfill blade 25 degrees left or right to direct spoil from one side to the other without forming windrows on both sides of the blade. In addition, the blade provides the best angle for stabilizing the machine on uneven surfaces or while trenching at an angle. 
Other features include an integrated lift eye, optional clamp diverter valve for enhanced hydraulic clamp functionality and an add-on counterweight option.