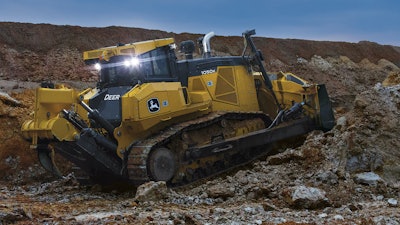 John Deere
Deere & Company says its worldwide net sales and revenues increased 30% to $12 billion during its second quarter and rose 25% to $21.1 billion for its first six months.
Deere has a November-to-October fiscal year.
John C. May, Deere chairman and CEO, says the company "closed out the first half of the year on a highly encouraging note."
The results reflect "healthy worldwide markets for farm and construction equipment," May continues. "Our smart industrial operating strategy is continuing to have a significant impact on performance while also helping customers do their jobs in a more profitable and sustainable manner."

Deere's Construction & Forestry Division sales increased by 36% from the heavily Covid-19-impacted Q2 2020, increasing from from $2.2 billion last year to $3.07 billion this year.
Deere says this increase was due to higher shipment volumes, price realization and the favorable effects of foreign currency translation. In addition, operating profit increased because of higher shipment volumes, sales mix and price realization.
Deere says it expects U.S. and Canada construction equipment net sales to be up 15% to 20% this fiscal year and compact construction equipment to rise 20% to 25%. Globally, construction and forestry net sales are expected to increase 25% to 30%
Supply chain
While OEM quarterly reports were filled with Covid-19 impacts during 2020, the warning bell in company reports now centers on supply chain issues.
"While the company is clearly performing at a high level, Deere expects to see increased supply-chain pressures through the balance of the year," May says. "We are working closely with key suppliers to secure the parts and components that our customers need to deliver essential food production and infrastructure."