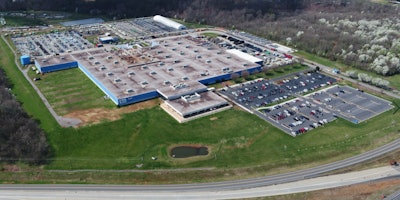 Doosan Bobcat
Doosan Bobcat says it will add a $70 million, 580,000-square-foot expansion to its Statesville, North Carolina, manufacturing facility directly on the heels of an $11 million upgrade at the facility completed in January.
To expand, the company acquired 68 acres adjacent to its current 92-acre campus to allow the addition of 500,000-square-feet of attached manufacturing space and 80,000-square-feet of warehouse and distribution space.
This follows the recent dedication of its $26 million attachments plant expansion in Litchfield, Minnesota, and a $17 million investment at its Gwinner, North Dakota, plant.
The company says the Statesville expansion will create 250 new full-time jobs in the area over the next five years. It currently has 400 full-time employees. Construction is expected to begin in July and be complete by May 2022. When complete, the total facility will have more than 1 million square feet.
Doosan Bobcat says the addition will enable it to meet growing demand for its Doosan Portable Power equipment and the growing line of Bobcat grounds maintenance and landscaping products.
"This level of investment demonstrates our commitment to North Carolina, which has been an important manufacturing location for us since 2008," says Mike Ballweber, president of Doosan Bobcat North America.