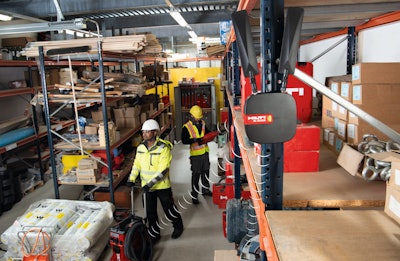 Hilti
Hilti North America's ON!Track tool and asset tracking system has now reached 3.0, offering even more data-driven insights, says the company.
The system's smart sensor tags and tracking gateways give contractors the location of all tagged assets in tool sheds, shops and containers. Each tag delivers information on how, when and where each asset is used.
New proactive gateways enable remote inventory checks and automated reporting, Hilti says. System upgrades include ways to better track and manage tool accessories, helping simplify the management of stocks and supplies.
With the 3.0 upgrade, contractors can manage job asset costs with customized cost reporting by asset. By setting up a daily cost per asset, companies can run a costing report for any date range, thus determining asset costs at any location.
Workers can also easily access service, maintenance and certification records and set alerts to help stay compliant. "Our customers want instant access to documentation," says Thibaud Lefebvre, Hilti's director of marketing tool services. "Now they can pull that up from their phone and show whoever might need to see it that they are. compliant."
In the past five years, Hilti says it has project-managed more than 2,000 ON!Track implementations.