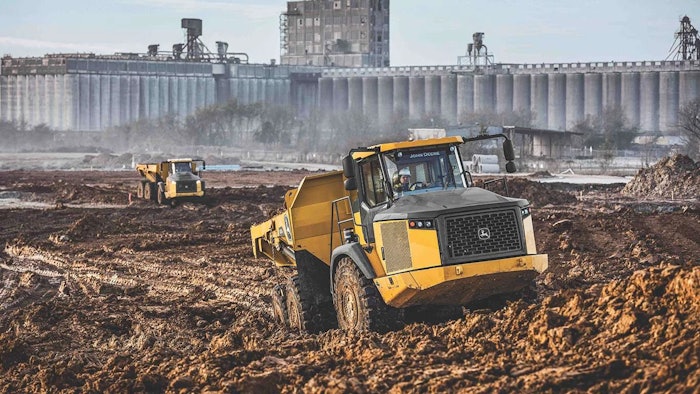 John Deere
Deere & Company says its global Q1 net sales and revenues saw a 19% increase compared to the same period in 2020, which it says reflects the success of its new operating strategy. The company now says it expects its full year 2021 net income to be $4.6 to $5 billion. 
"John Deere started 2021 on a strongly positive note," says John C. May, chairman and chief executive officer. "Our results were aided by outstanding performance across our business lineup and improving conditions in the farm and construction sectors."

John DeereDeere says its construction and forestry segment net sales increased 21% compared to Q1 2020, primarily because of higher shipment volumes, price realization and favorable currency translation.
Additionally, the Wirtgen operation's one-month reporting lag was eliminated within the segment, resulting in four months of Wirtgen activity reported in Q1. Higher production costs and voluntary employee-separation costs in this segment partially offset profit increases, Deere says.
The company's Q4 report also reflects the division of its agricultural and turf segments. The new production and precision agriculture segment focuses on large and certain mid-size tractors, combines, cotton pickers, sugarcane harvesters and loaders, along with soil preparation, seeding, application and crop care equipment. 
The new small agriculture and turf segment includes mid-size and small tractors, hay and forage equipment, riding and commercial lawn equipment, golf course equipment and utility vehicles.
With the new divisions, Deere now has four reporting segments, with the construction and forestry and financial segments remaining unchanged.