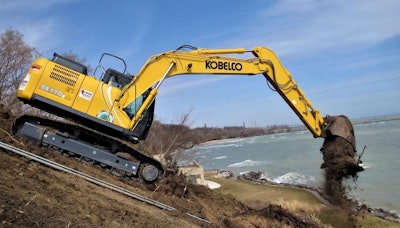 Kobelco Construction Machinery U.S.A.
Citing engine supply issues, Kobelco Construction Machinery (KCM) will temporarily suspend U.S. excavator production at its Kobelco Construction Machinery U.S.A. plant in Spartanburg County, South Carolina. The suspension will begin May 1st, KCM said in statement.
In mid-January, engine supplier Hino Motors informed KCM that 2021 EPA emission certifications had not been obtained on four engine models and there was "no clear outlook" on it's future supply schedule, KCM says. The four Hino engine models involved are J05E, J08E, P11C, and E13C.
According to the 2020-21 Equipment World Spec Guide, Kobelco is the only excavator manufacturer currently using Hino engines. The Hino engines range from 127 to 510 horsepower. Kobelco also uses Isuzu engines in its larger excavators.

While it is currently considering alternative engine suppliers, KCM says production of its SK170LC, SK210LC, SK260LC, SK300LC, SK350LC, SK390LC, and SK500LC models will be suspended once the current inventory with certified engines has run out.
KCM says the four Hino engines are also used in machines imported to the U.S., including six excavator models (SK210HLC, SK230SRLC, SK270SRLC, SK380SRLC, SK500LC, and SK850LC) and and five crawler crane models (CK850G, CK1100G, CK1200G, CK1600G, and CK2750G). The machines are imported to the U.S. from two factories in Japan. Imports will be suspended until these models can be equipped with 2021 U.S. EPA emissions-certified engines.
U.S. Kobelco dealers will continue to sell excavator inventory with EPA-certified engines, including remaining inventory of the affected models, compact excavators, 7-to-13 ton excavators and the CK3300G crawler crane. Product support activities will also continue.
The company does not have a timeline for resumption of U.S. excavator production. "We are currently examining the impact of the suspension of production and sales on our business results," KCM said in a statement. "We will promptly make an announcement when any matters to be disclosed arise in the future."
The statement continues: "We are considering installing an alternate engine for the models affected by this supply disruption. We strive to resolve this issue as soon as possible."
Kobelco recently announced its ED160BR-7 Blade Runner, which it calls two machines in one – a crawler excavator with true dozing capability thanks to a large-capacity, six-way dozer blade. This model is not on the list of affected machines.