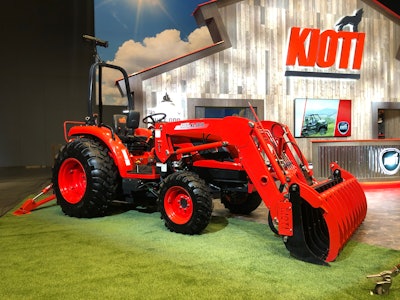 Kioti plans to introduce a variety of new products this year, including a new N Series line of tractors, a new UTV model and a new CX Series tractor model with a cab.
The company also plans to roll out an optional cab for its CS20 Series tractors and a line of grapples.
The company gave the following snippets of information about the new products, saying more would be revealed as they are released during 2021:
NS Series
Kioti says its new NS Series tractors will consist of five models ranging from 45 to 58 horsepower. The company says they are "designed to meet the needs of value-conscious customers who require a powerful tractor and larger platform."
Features include high-capacity hydraulics, power steering, adjustable three-point hitch and an independent power take-off shaft with auto and manual selections. Customers can choose either a synchro shuttle or hydrostatic transmission.
K9 2400 Cab UTV
Kioti is rolling out the new K9 2400 Cab UTV model, which features an audio system with speakers, air conditioning, heat and defrost, a tilt-opening windshield and four-wheel drive. It is also designed to reduce noise and vibration. A redesigned continuously variable transmission will have engine braking.
New CX2510 CH tractor
The latest addition to the CX Series of tractors will come with a cab with heating and cooling. Other features include cruise control, power steering and rear PTO with adjustable three-point hitch.
Accessories and attachments
Kioti plans to introduce a cab as an optional accessory for its CS Series tractors. The cab will come standard with a heater, defrost, front working lamps and wiper. Optional add-ons including a Bluetooth audio player, beacon kit and floor mat.
The company's new grapple line will consist of three models each of compact and standard duty rake grapples made of AR400 steel. They will range from 48 to 72 inches and 198 to 476 pounds.