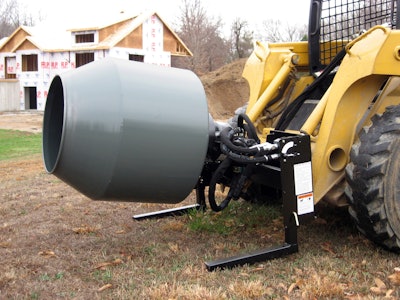 When it's time to build a driveway or patch a road, you might be able to save yourself the expense of buying or renting a designated machine. Instead, these attachments allow you to use your skid steer, compact track loader or other construction equipment for the task.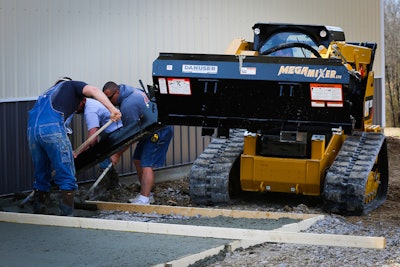 Danuser's Mega Mixer material handling bucket for mixing and spreading concrete has some recent improvements, including a discharge end that is easier to operate. The 8-inch-diameter, 8-inch pitch auger improves mixing and dispensing. The motor gets a boost in torque and power and can dispense ¾ cubic yards of material in 26 seconds. Mounts on both sides enable the operator to dispense either left or right of the host machine. Other features include pin holders, easy-to-read yardage markers and two 2-foot multi-link chutes that can be stored on the bucket.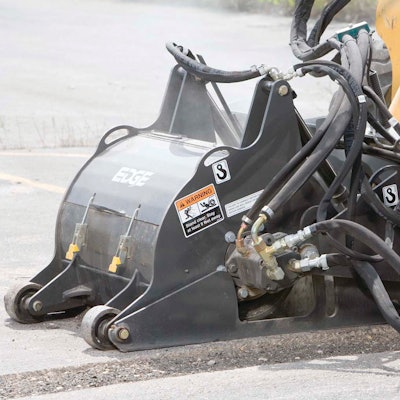 The Edge Cold Planer features high torque to quickly mill concrete and asphalt. It comes in standard and high-flow versions for skid steers, track loaders and articulated loaders. The standard model has hydraulic side-shift controls and manual tilt and depth controls. The high-flow option has electric-hydraulic side-shift and tilt and depth controls. Three hydraulic lines feed a single circuit. Both versions come with wire harness and control box, hoses, hose saver kit, flat face couplers and asphalt picks. A dust control kit is optional.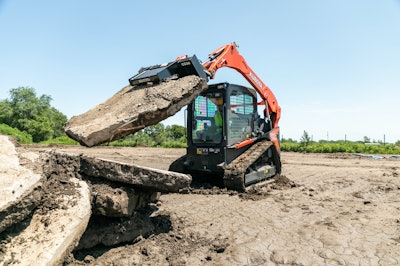 The CC30 Concrete Claw, manufactured by Kubota's Land Pride subsidiary, is used for removing large sections of concrete floors, driveways, sidewalks and other large slabs. The teeth are slid under the concrete slab, then the slab can be lifted and loaded. The Concrete Claw has a universal quick-attach hitch that fits a variety of loaders. Its side panels are made of high-strength T1 steel to resist bending while prying concrete slabs, and they are reinforced for added strength and rigidity. The attachment matches Kubota's SSV and SVL Series loaders.
Loegering Attachments, a subsidiary of ASV, has combined milling and stabilizing functions into its ST1000 attachment for compact track loaders and skid steers. The attachment can mill to a depth of 9 inches. Independent level control on both sides enables it to follow the contour of the pavement. Its large mixing chamber can combine binders into cut pavement. Ports are built into the cutter box for spraying stabilizer fluid or binding. It also has a dust-suppression system. The ST1000 is 39 inches wide and is designed for such jobs as large parking lots.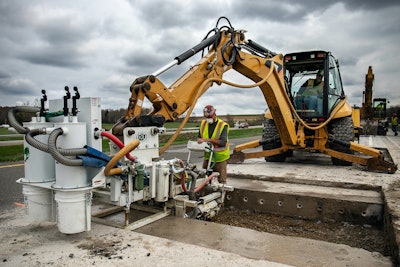 Minnich Manufacturing's A3/A6 machine-mounted drills are designed to increase productivity on patchwork jobs, able to perform full-depth repair. The pneumatic attachment, which can have as many as six drills, can be linked to an excavator, backhoe, skid steer or compact track loader. A side-shift function enables a second set of holes to be drilled without repositioning the host machine. A dust-collection system is optional to meet OSHA silica dust regulations for dowel pins. Minnich says the attachment also increases safety by reducing operator fatigue.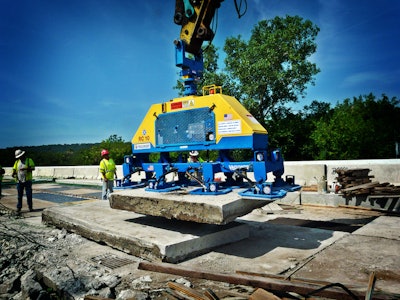 Vacuworx RC Series vacuum lifters can be used with the company's Octapad lifting system to remove concrete slabs during road and bridge construction projects. On an excavator or crane, RC lifters equipped with the Octapad can lift and place materials directly into a truck for removal from the jobsite without rehandling. The vacuum technology allows for the slab's complete removal from the roadbed without disturbing the sub-base for the subsequent patch pour. Each of the eight pads has an individual vacuum that can be shut off for slab areas too damaged for lifting.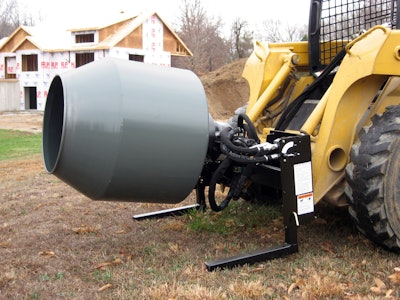 Worksaver's SS-590 Hydraulic Cement Mixer eliminates chain and sprocket maintenance thanks to a direct hydraulic line to the gearbox. The attachment's 11-cubic-foot drum can mix and place 5 cubic feet of concrete at a time. The drum is constructed of welded steel and has internal angled paddles for uniform concrete mixing and clean dumping. Standard features include connect-under-pressure couplers, flow control valve to control mixer speed, and a single lever to engage and disengage the drum. The attachment is designed for fence posts, footings, sidewalls and hard-to-reach areas.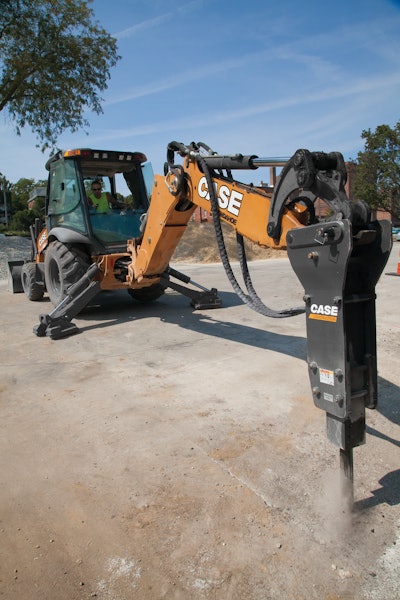 Case says its hydraulic hammers have only two moving parts and low recoil, which provide reliability and smooth operation. The hammers are made for Case heavy and compact excavators, tractor loader backhoes, compact tractor loaders and skid steer loaders. The hammers' cushion chamber isolates blows from the operator and host machines and recycles energy for the next blow. The hammers come with install kits for easy mounting with pre-assembled hoses and service tools. They also come with a gas recharge kit.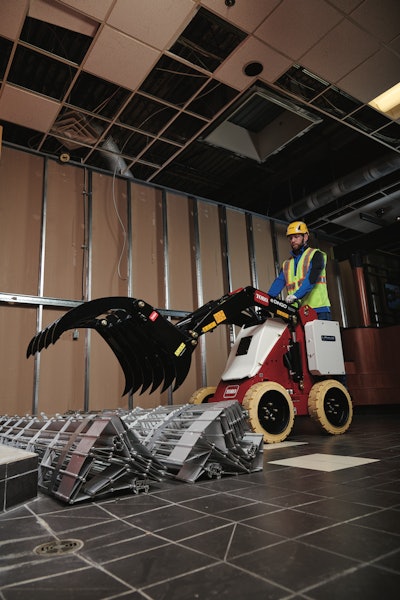 The new Toro grapple bucket attachment is designed for simplified handling of various materials, including concrete, with the company's stand-on compact utility loaders. It is constructed of high-strength steel and can also be used for hauling and grading tasks. The 34-inch-wide bucket weighs 238 pounds. It is compatible with the company's Dingo 320-D, 323, TX 427, TX 525 and TX 1000 models and the electric e-Dingo. Along with concrete, the attachment can handle boulders, timber, scrap, waste and other debris.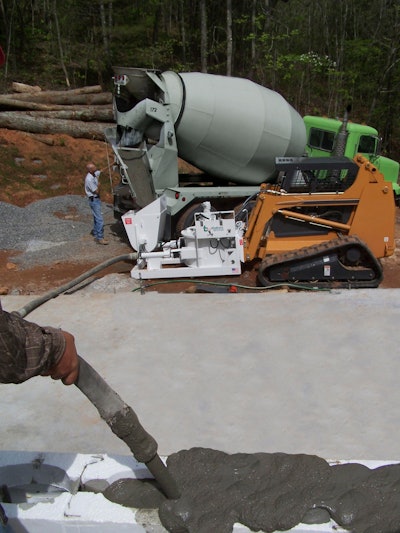 Blastcrete's RD6536 Skid Steer Pump attachment is designed to provide a fast, efficient way to pump grout materials, 3/8-inch shotcrete and 3/4-inch structural concrete mixes in a variety of concrete and shotcrete applications. It is compatible with any skid steer, the company says. The RD6536 pumps at speeds up to 25 cubic yards per hour. Contractors can pump materials 250 feet horizontally and as high as 50 feet with the use of a rubber delivery line. The receiving hopper's hydraulic agitator is designed to keep the mix well-blended.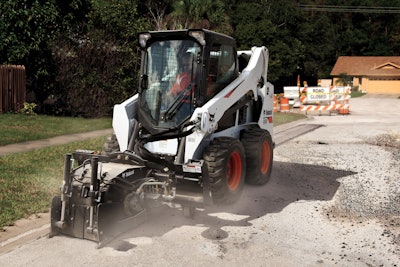 The Bobcat planer attachment enables your skid steer to cut and mill concrete and asphalt. The milling process involves low-angle, high-velocity blows in a controlled pattern to uniformly chip pavement. Depth, width and slope control are easy to set and maintain by the operator. Milled material can be immediately recycled to finish asphalt or repair jobs. The planer attachment costs less to maintain and is easier to maneuver than dedicated planers, Bobcat says. It comes in four models, including high-flow versions.
Road Widener's FH-R model for skid steers and compact track loaders is designed for road shoulder work and aggregate dispersal. It can lay down asphalt in widths of 1 to 4 feet and can be ordered for left- or right-side discharge. A closure plate blocks material from spilling out of the side that is not being discharged from. The attachment comes with remote control, enabling the operator to control the Road Widener from a safe distance. The attachment requires hydraulic flows of 17.5 to 24.2 gallons per minute.