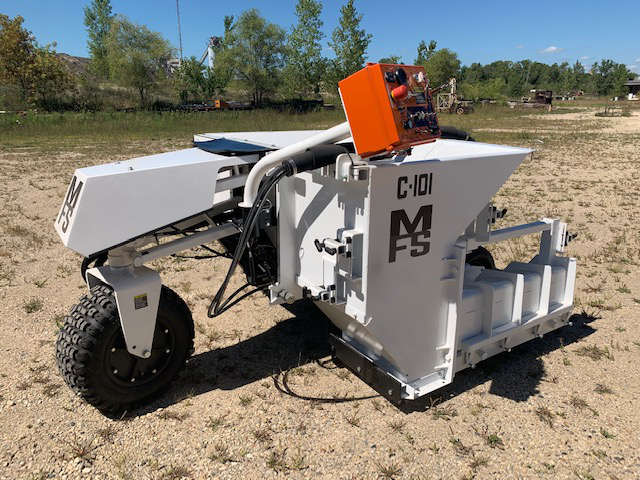 MBW has sold its curb and gutter concrete slipform paver business to Illinois-based Miller Formless, which also manufactures slipform pavers.
MBW's C-101 and CG-200 models will now fall into the Miller Formless product lineup.
MBW, based in Wisconsin, designed its no-frills slipform pavers with small contractors in mind – simple and affordable for such jobs as shopping malls, gas stations and neighborhoods. The pavers have automatic grade adjustment and steering to follow a stringline, but are not equipped for stringless 3D control, and MBW had no intentions of adding it. Its goal was to keep the machine simple and costs lower.
The pavers are built on a modular platform. The C-101 is the main unit with an operating weight of 2,590 pounds and a 12-inch hopper. It can be converted to the CG-200, which weighs 3,395 pounds and has a hopper of 24 to 48 inches.
For Miller Formless, the acquisition gives it broader market share into the smaller paver segment. Before the acquisition, Miller Formless' smallest curb and gutter machine was the M-1000, at 21,000 pounds. It has a 5-foot paving width and a 24-inch radius. It is 3D ready and can be operated by handheld remote. The company also offers five other products for installing concrete curb, curb and gutter, barrier walls and concrete pavements.
"In an effort to expand market share and continue our corporate growth strategies, we saw this small paver as an excellent opportunity to add a quality machine to our existing line of products," said Darick L. Franzen, Miller Formless vice president of business development – North America.
MBW was formed in 1967 in Slinger, Wisconsin, with the introduction of a vibratory plate compactor. Helmut Maass and Frank Multerer Sr. traveled the Midwest selling the machines for cash out of a station wagon, according to the company's website. The company continues to manufacture vibratory compactors as well as concrete finishing products and equipment for the utility industry. Its CEO, Andy Multerer, is the grandson of the co-founder.
"Miller Formless has the reputation, knowledge and experience in the slipform paving industry to take this well-developed product and bring it to another level of productivity and professionalism," Multerer said. "It is bittersweet for MBW because we have a deep and rich history with the paver, but in our hearts, we know that Miller Formless has the core focus for the slipform paving world, and MBW's core focus is on compaction and concrete finishing."
Miller Formless was founded in 1970 by Charles P. Miller who built his first curb and gutter machine in 1966 while working for his father's construction company in the Chicago area. Miller sold the company in 2015 to family friends Scott and John Smith, and Tom Uutala. Scott Smith is the company's CEO. This year the company celebrated its 50th anniversary.
In the past five years, Miller Formless has been growing its international presence through an alliance with Guntert & Zimmerman for slipform equipment, a partnership with Linnhoff India Pvt. Ltd. to manufacture and sell equipment throughout India and Southeast Asia, and it has established a European office for parts and service. The MBW paver acquisition follows last year's purchase of CCF Pavers of Belgium. Miller Formless also sells equipment in Canada, Central America and Australia.