Cummins has unveiled its lineup of 2021 emissions-compliant X12 and X15 on-highway engines.
The coming model year represents the first phase of Greenhouse Gas (GHG) Phase 2 emissions requirements. The new measures are a step up from the current level – enacted for the 2017 model year – and increase incrementally in model-year 2024 before phasing in completely by model-year 2027. Once fully phased-in, according to the Environmental Protection Agency (EPA), the standards will achieve up to 24% lower CO2 emissions and fuel consumption compared to Phase 1.
The EPA 2021-compliant X15 Efficiency Series – making up about 70% of Cummins X15 sales – was brought to market earlier this year, a full model year ahead of the regulation change, leaving just the X12 and two other X15 series engines to get the update with order books for 2021 trucks already opening.
Both the X15 and X12 engines feature a 75,000-mile oil drain interval for trucks getting 7 mpg or more, but the X15 Performance Series will get a 10,000-mile bump for 2021 in trucks getting between 5 and 7 mpg.
Kris Ptasznik, Cummins' heavy-duty on-highway product manager, said the oil drain extension was enabled by sampling results seen through the company's OilGuard engine oil analysis program during the three years the X15 has been on the market.
For all 2021 engines, the engine maker also has aligned its oil change and fuel filter change schedule, allowing customers to better plan maintenance, said John Malina, executive director of Cummins' Product Connectivity Business.
Engines in the coming model year also get a fuel economy boost. Nick Roth, Cummins' director of national accounts, said that some customers are seeing in excess of 9 mpg in the current X15, but that number varies by segment, by driver and by a wide array of other factors.
"What we can say for sure is that we launched a 2021-compliant product in 2020 with the X15 Efficiency series, which has demonstrated up to a 3.5% fuel economy improvement to the 2019 product," Roth said.
For 2021, X15 Efficiency Series customers with EX ratings (equipped with an Endurant HD transmission and GPS-enabled features such as Predictive Engine Braking and Predictive Gear Shifting) can expect to gain an additional 1.5% in fuel economy.
The X15 Performance Series gets a fuel economy boost of up to 2% over the prior generation. The X12, through base hardware changes, gets an added 2.5% fuel economy improvement. Compared to the previous generation ISX12, the 2021 X12 engine gets an improved fuel economy of up to 8.5%.
Tipping the scales at just 2,050 pounds, the X12 squeezes better mpg from improved engine breathing, an optimized ignition compression ratio and reduced frictional losses via modified piston ring packs.
Optional EX ratings for the X12 can add another 1.5% fuel economy for 2021, Ptasznik said. The EX ratings are newly available to the X12 in 2021.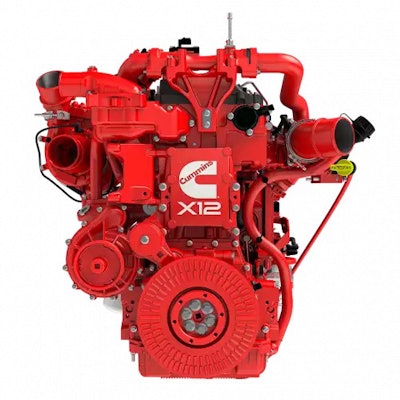 The X12, also for 2021, gets access to Cummins' Acumen cellular connectivity module, offering connected software updates and diagnostics via a new engine control module.
Acumen connects directly to Cummins' new technology platform, FiberRed, giving carriers access to digital apps, product enhancements and service integrations designed to improve uptime and deliver a more personalized experience over the vehicle's life.
The X15 Performance Series gets a larger thrust bearing with eyes toward improved durability, while EGR flow has been refined for engine brake assistance. Like the X12, the X15 Performance Series is equipped with an updated engine control module (ECM) that opens Acumen access.
Air handling improvements made to the x15 Performance Series provide better compression ignition. Efficiency improvements include reduced parasitic and frictional losses and reduced water pump speed.
The X15 Performance Series-powered trucks equipped with automated manual transmissions also will get SmartCoast, Predictive Cruise Control and Predictive Road Speed Governor, features that previously were unavailable on units over 500 hp.
RaNae Isaak, Cummins' powertrain and total cost of ownership consultancy leader, said the company has simplified ratings choices to make spec'ing easier.
Efficiency Series is available with up to 500 hp with a mix of standard, SmartTorque and EX ratings.
The Performance Series X15 offers power of between 525 to 605 hp, while a Productivity rating provides higher governed speeds, unlocking extended access to peak horsepower.
The X12, optimized for line-haul and regional-haul applications, along with vocational and specialty vehicles, will follow a similar rating strategy.
New EX ratings – a spec that includes OnRamp Boost, Predictive Engine Braking, Predictive Gear Shifting and Dynamic Power – will be available for line-haul and regional trucks thanks to a new ECM.
Cummins also will debut PowerSpecWeb, a website designed to help dealers and fleets spec the powertrain correctly on the frontend, tailor equipment by adjusting select features, and analyze driver performance via the reporting feature.
PowerSpecWeb includes a gearing calculator, complete descriptions of electronic features with video content, instructions on how to optimize parameter settings, additional resources that help with the spec'ing process and access to trip information and fault code data. It also supports fault codes and trip information on all on-highway products.