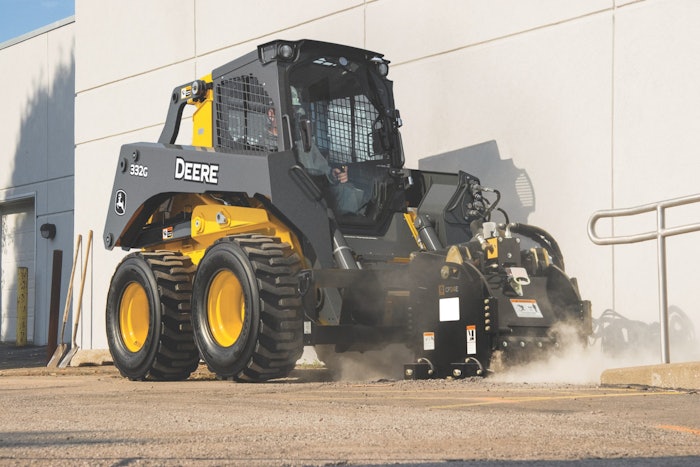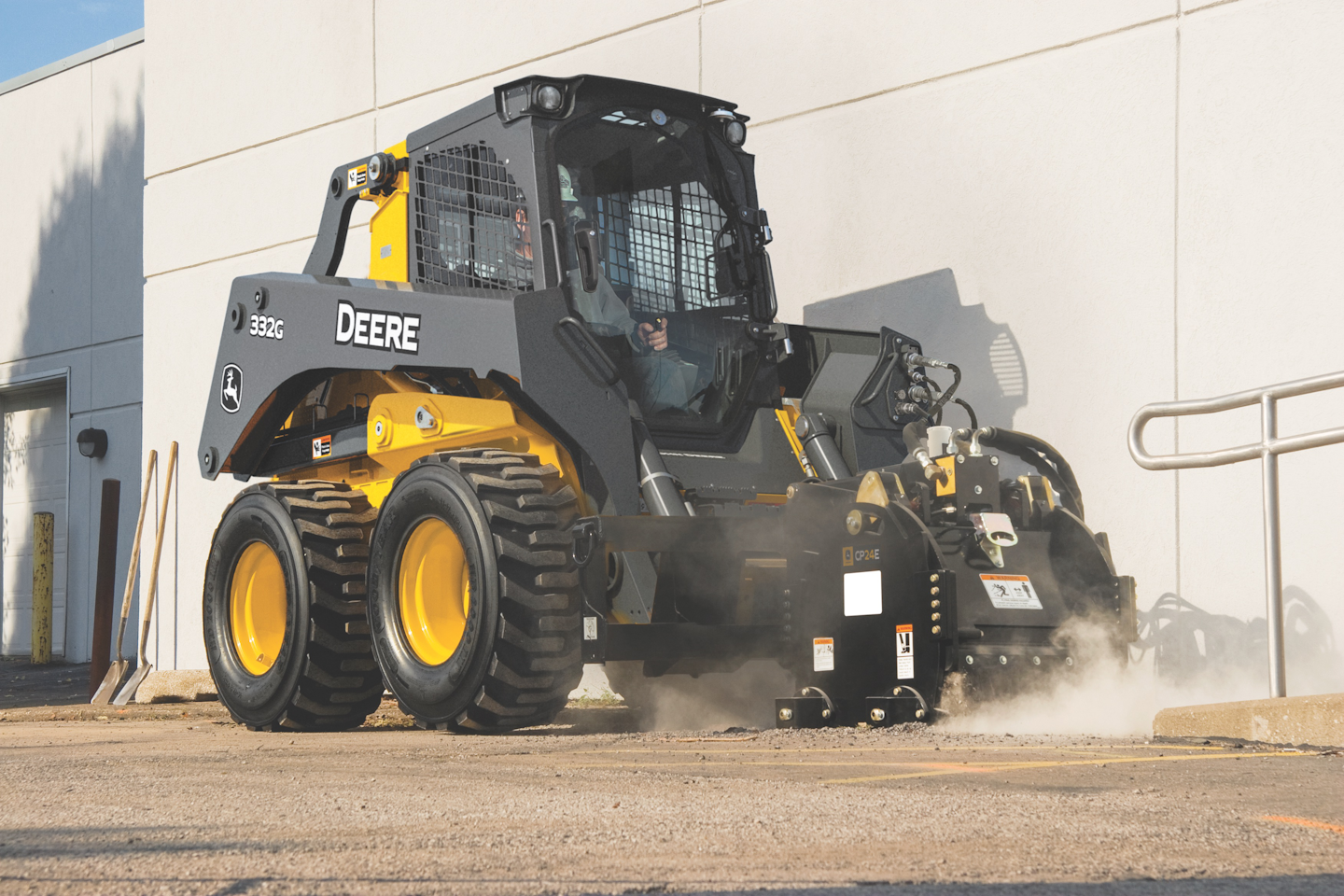 John Deere has introduced three new cold planer attachments for skid steers and compact track loaders for such tasks as street repairs, leveling uneven pavement, texturing pavement and cleaning around larger milling sites, the company says.
The functions of the high-flow CP18E, CP24E and CP30E cold planer models can be controlled from the cab, including depth, tilt and side shift. They join the CP12D, which is a standard-flow attachment requiring manual adjustment.
On the new models, a heavy-duty planetary drive system delivers high torque. A visible case pressure reservoir indicates when case pressure is high and helps reduce contamination to the hydraulic system. A high-capacity gear box has a drain-and-refill plug for easier maintenance. Deere says oil needs to be replaced at 1,000 hours or on an annual basis.
When working near a curb or in tight spaces, the operator can remove the right side plate and adjust the side shift to for closer cutting.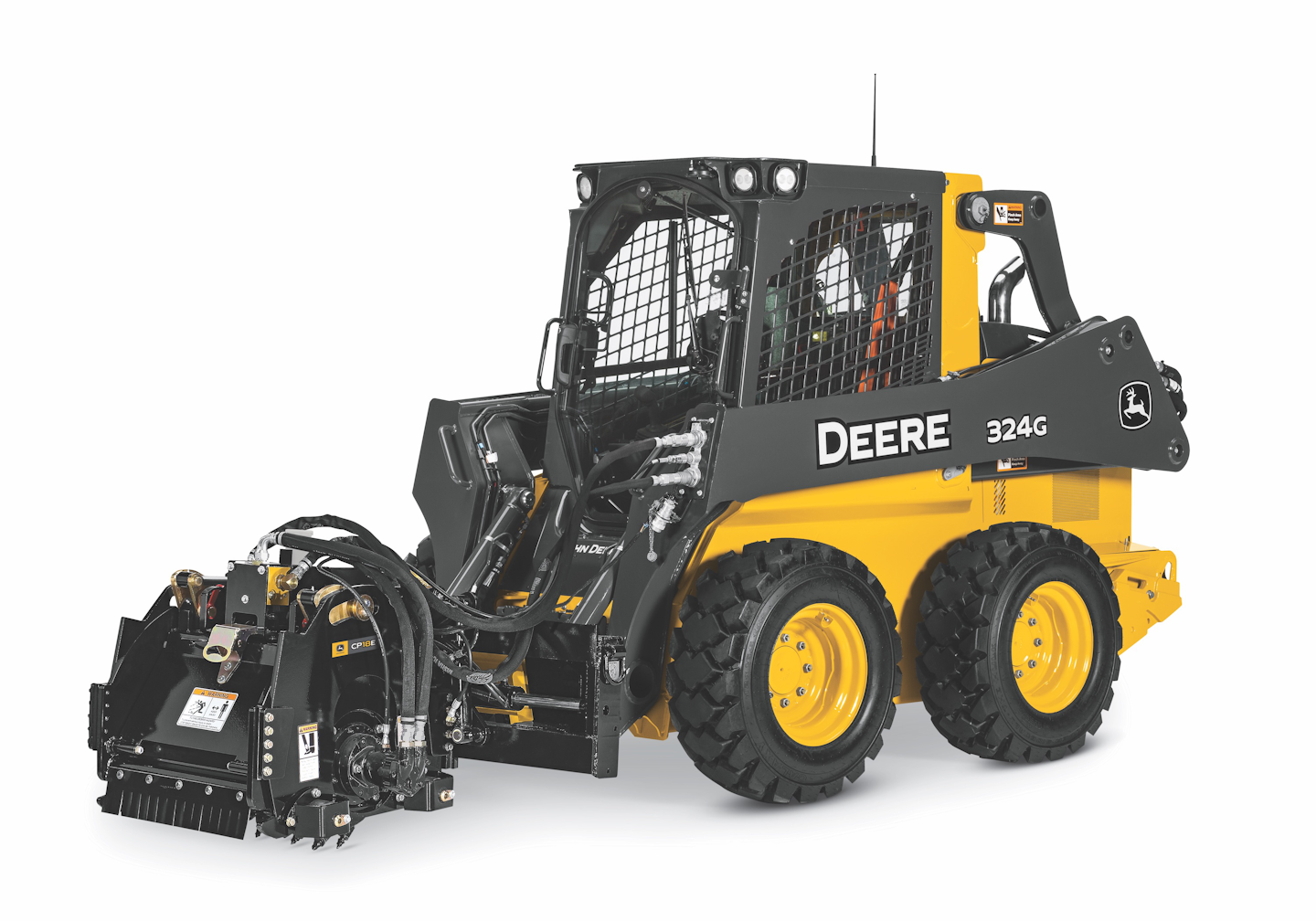 The attachments feature rear spoil clearance of 9 inches. Deere says that reduces recirculation of material. The planers also have a wheel guard design that prevents the wheels from riding up and over the millings, which reduces rolling resistance and improves depth control.
The models attach with Deere's Quik-Tatch system. Two carbide teeth options are available: a general purpose pick for both concrete and asphalt and an RP18 pick for asphalt only. A water nozzle is available for an optional water tank.
The planers are made for Deere skid steers and CTLs and can work with competitors' models.
Specs for each new cold planer attachment model:
CP18E – 18-inch planning width, operating weight of 2,200 pounds, 45 carbide cutting teeth.
CP24E – 24-inch planning width, operating weight of 2,400 pounds, 57 carbide cutting teeth.
CP30E – 30-inch planning width, operating weight of 2,600 pounds, 69 carbide cutting teeth.
All three can plane down to a depth of half an inch and require hydraulic flow of 29 to 41 gallons per minute. All three models are 50 inches long, 65 inches wide and 35 inches high.