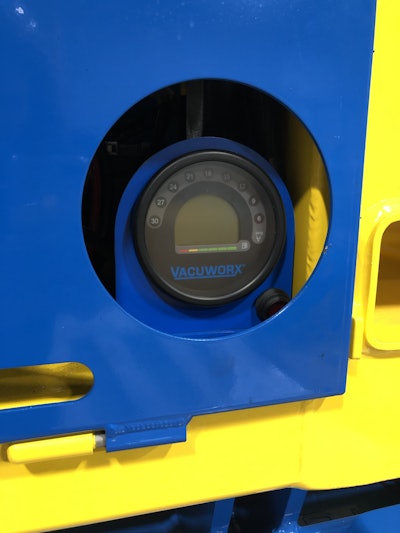 Vacuworx has updated its RC Series Vacuum Lifting Systems to improve safety, reduce downtime and provide real-time diagnostics, the company says.
The lifts in the series can handle materials ranging from 22,000 to 55,000 pounds and are most often used for large energy and infrastructure projects.
One of the safety improvements is for the adapter that links the attachment to the carrier machine. It now has removable top caps, which makes it easier to position and secure the adapter pin. Standard pin size is 110 millimeters. The adapter can also accommodate pins as small as 50 mm with bushings, and 120 mm or larger with an adapter.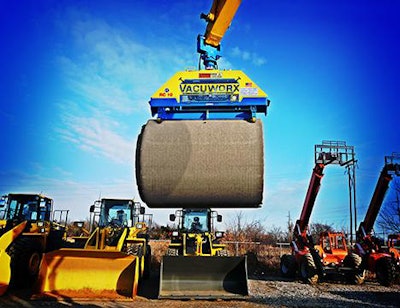 The company also incorporated a flow control box into the adapter for safer, easier-to-reach hydraulics adjustments. And the part of the adapter that attaches to the base plate on the lifter, called a tombstone, can be replaced rather than being welded to the adapter. That change saves time and money when repairs are needed, the company says.
The traditional gear box has been replaced with a belt drive to reduce the need for service. There is no longer any oil to replace with the belt drive, and the design keeps the engine bay cooler, Vacuworx says.
A new CAN bus system monitors the lift for faults and quickly diagnosis problems through a central logic controller, the company says. A new dashboard gauge on the side of the lifter displays error codes; oil, fuel and pressure levels; number of lifts; and engine hours.
The wiring has been simplified with fewer components and no mechanical switches. All of the circuits can be monitored and diagnosed through the logic controller. There are no fuses to repair or replace; all faults are reset electronically, the company says. The system also identifies any incorrect repairs or environmental damage.