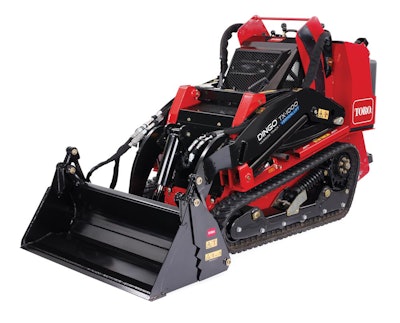 ---
(Find all your construction-equipment attachments needs in one spot with Equipment World's free 2020 Attachments Yearbook. Download the 2020 Attachments Yearbook PDF)
---
Toro has added two new buckets and has teamed up with Boss to add new snowplow attachments for its lineup of stand-on Dingo compact utility loaders, (also referred to as mini skid steers).
The two buckets are a 4-in-1 model and a grapple bucket. The Boss snowplows come in 4- and 5-foot-wide models for snow and ice removal.
All of the attachments are compatible with these Dingo models: 320-D, 323, TX 427, TX 525 and TX 1000. The grapple bucket can also be used with Toro's new e-Dingo electric compact utility loader.
4-in-1 bucket
The 4-in-1 bucket offers the following configurations:
Standard – With the jaws closed, operators can use this attachment as a standard bucket and open the jaws to dump.
Leveler – With the jaws open, the rear cutting edge of the bucket floor is placed on the ground and the forward edge is up. Operators can then move the cutting edge in reverse to smooth out the surface.
Blade – With the jaws open, the back of the bucket can act as a blade to push material. Operators can also grade and push material simultaneously by partially closing the jaws and using the bottom of the front bucket.
Grapple – The bucket's side jaws can close over objects and material to pick them up and transport them.
The 4-in-1 bucket is 49 inches wide and can haul up to 3.3 cubic yards of material. It weighs 292 pounds, is 27 inches deep and 22 inches high.
Grapple bucket
Toro says its new grapple bucket is designed for simplified handling of a variety of materials including boulders, timber, concrete, scrap, waste and other debris.
The grapple bucket is 34 inches wide and weighs 238 pounds. It is made of high-strength steel and simplifies material handling, hauling and grading tasks, the company says.
Boss snowplow attachments
The blades on the Boss snowplow attachments for the Dingos are made of polyethylene, combining light weight with durability, Toro says. The cutting edge is reversible for longer life.
The trip design spans the entire blade to reduce impact when striking objects. The blade can also be adjusted hydraulically up to 30 degrees right or left, so operators don't have to make manual adjustments.
Options for the plows include a 6-inch blade-extension kit, a snow deflector kit, a plow shoe kit, box wing extension and urethane edge kit.