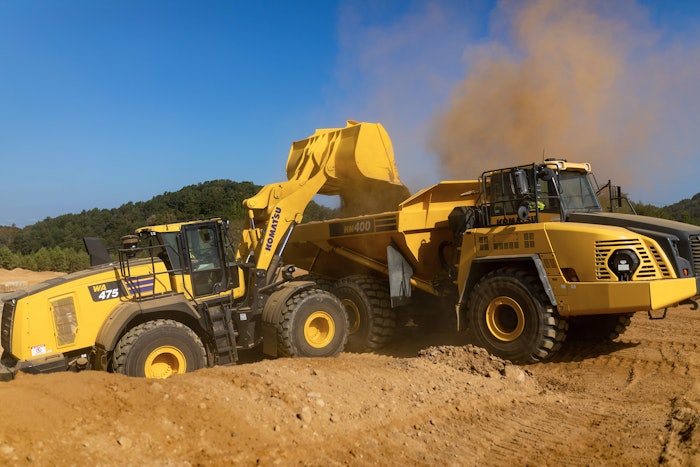 Volvo unveils DD128C double-drum compactor
Volvo Construction Equipment's new DD128C double-drum compactor, showcased at its ConExpo booth, is designed to provide both smoothness and productivity, says the company.
The 79-inch-wide drum with chamfer and radii drum edges gives the machine high compaction performance and reliability, Volvo CE says. With a diameter of 55 inches, the drum has auto-reversing eccentrics to ensure eccentric rotation in the direction the drum is rolling. An automatic drum wetting system adjusts water flow to the speed of the drum to both minimize water use and ensure uniform drum coverage, preventing material pickup.
To read more, click here.
---
Bollinger unveils design for electric Class 3 chassis cab truck slated for 2021
Bollinger Motors, a U.S.-based company headquartered just outside of Detroit, said its plans to produce and sell a fully electric chassis cab truck.
The Bollinger B2CC would be the first all-electric Class 3 chassis-cab truck platform, and will be built on the company's patent-pending E-Chassis all-wheel drive base, and available in 2- and 4-door cab configurations and in multiple wheelbase lengths.
To read more, click here.
---
New Sany SMG200C-8 motor grader designed specifically for road projects
According to Sany, the company's new SMG200C-8 motor grader, introduced at ConExpo this year, is designed with the needs of municipalities and road contractors in mind. Specifically, that means road upkeep and rebuild applications.
According to Noah VanOosterhout, road product manager at Sany, "Many machines are more than what is needed to grade and repair roads. The SMG200C-8 is built specifically for maintaining and repairing roads."
To read more, click here.
---
Komatsu unveils WA475-10 wheel loader with Hydraulic Mechanical Transmission, redesigned cab (VIDEO)
Komatsu has introduced the first of its next-generation, Dash-10 wheel loader models. The WA475-10 is an electronically controlled loader with an all-new hydraulic mechanical transmission that combines the benefits of a hydrostatic transmission with that of a planetary mechanical transmission.
Komatsu says the development of the WA475-10 is several years in the making and the process was guided by a desire to give customers across the board spec and power increases while also boosting fuel efficiency.
You can get all the details on the new WA457-10 in our video coverage below. Or, if you prefer text, you can read on at the link after the break.
To read more, click here.
---