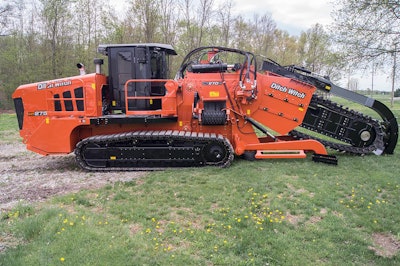 Toro reports a 27.9 percent increase in net sales for the third quarter, with this year's acquisition of Charles Machine Works driving much of that rise.
Toro completed its acquisition of Charles Machine Works, parent company of such brands as Ditch Witch, American Auger and Trencor, on April 1 for $700 million.
The big jump in net sales for Toro when compared to third-quarter 2018 came in its professional segment, which includes the Charles Machine Works brands, as well as Toro landscape and grounds, golf course and irrigation products. Net sales for the segment were up 40.3 percent, or $194.3 million, to $676.8 million.
Toro Chairman and CEO Rick Olson said during a conference call with stock analysts August 22 that the company's dealers are enthusiastic about the acquisition as it will lead to more product offerings and enable them to be more competitive. He also pointed to a strong rental market report by the American Rental Association, which he believes bodes well for the company. He said new products will be coming out for dealer and rental markets soon.
As to integrating the newly acquired company into Toro, Olson said that was occurring on schedule, and the company is confident that its original estimate of $30 million worth of synergies over the next three years will hold true.
He noted the company's recent announcement that it will phase out Toro's large horizontal directional drills and riding trenchers – products that were Ditch Witch competitors. "This is one example of many where we have been able to move quickly and decisively to eliminate redundancies and align priorities," he said.
Another acquisition paying off for Toro in the third quarter is its Boss snow and ice management business, which it acquired in 2014. Olson cited heavy snows last winter as boosting sales for Boss' products. Olson added that preseason orders for snow and ice products were encouraging, including for Boss' recently acquired and upgraded Snowrator sidewalk snowplow and de-icer.
But as the wintry weather boosted sales of some products, spring's unusually wet conditions hurt Toro's residential segment of riding and walk power mowers. Net sales for the residential segment dropped 11 percent from 3Q 2018.
Looking ahead, the company expects some headwinds with trade policy and weather conditions but says it is on track for positive financial results through the end of 2019.
"We will finish the year strong," Olson said, "and set the stage for a successful 2020."