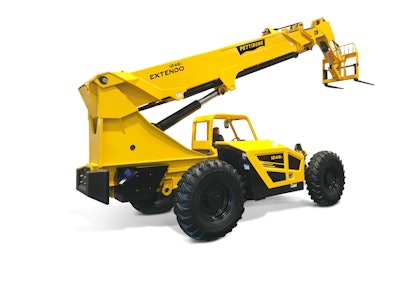 Pettibone's new Extendo 1246X Telehandler features 12,000-pound lifting capacity for contractors and rental users working in demanding construction jobsite conditions.
The telehandler has a max lift height of 46 feet, 6 inches and forward reach of 30 feet. A 30-gallon fuel tank allows for a full workday without needing a refill.
The 1246X runs on a 117-horsepower Tier 4 Final diesel engine. The engine is mounted on a side pod to provide 19 inches of ground clearance, curbside visibility and easy service access.
The drivetrain and axles are designed for greater tractive effort while maintaining top end speed. Full-time 4-wheel-drive with limited-slip front axle differential provides further aid in traversing rough terrain. The Dana VDT12000 Powershift transmission has three speeds in forward and reverse.
Pettibone increased the strength and reduced the weight of the boom with formed boom plates. The design also provides better control and accuracy for placing loads by minimizing boom deflection. The company doubled boom overlap to smooth out operations and lessen contact forces on wear pads. To further increase pad life, a bottom-mounted external extend cylinder cuts the load on wear pads in half and allows better service access to internal boom components. The wear pads don't have fasteners, for simpler service. The boom is also equipped with heavy-duty extension chains for stability.
The telehandler is also designed to prevent hard, jarring stops, which also helps prevent load spillage. It does this through cylinder cushioning that dampens the end of the extending and retracting strokes. The single lift cylinder improves operator visibility and has twin nontensioned hydraulic lines for tilt and auxiliary flow.
The cab has ergonomic seat, pedal, joystick and steering wheel positions. A new analog/LCD gauge cluster is standard. A 7-inch display with backup camera is optional. The cab also has climate control, flat bolt-in glass, split door design, a rear window that opens, USB accessory plug, lockable storage under the seat, and water-resistant components for easy interior washdown.
The fuel and hydraulic tanks are made of steel to prevent damage. The fuel fill can be locked.
Other features include a pintle hitch mount for towing, split-system electrical circuit panels, a 12-volt accessory plug in the engine bay, and heavy-duty bright LED lighting.
Options include axle-mounted outriggers, solid or foam-filled tires and a sling hook for additional load security. A variety of attachments are also available, including forks and buckets.