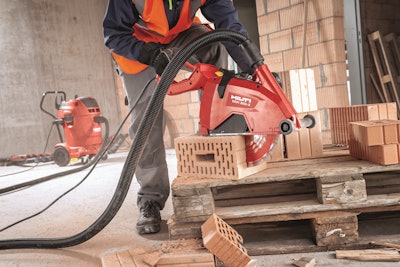 Hilti's latest electric diamond cutter offers indoor and outdoor cutting along with some smart features.
The new DCH 300-X features an integrated water connection that Hilti says delivers cutting that is up to 30 percent faster compared to similar saws in its class.
The saw also features a built-in depth gauge and wheel set, and Hilti notes that the saw's 12-inch blade offers similar cutting depths as a 14-inch blade. The company says the DCH 300-X's ergonomics deliver a level of accuracy unmatched by other electric cutters.
The saw can be paired with a number of blades in Hilti's multi-line diamond blade portfolio, allowing you to match the right-priced blade to your needs.