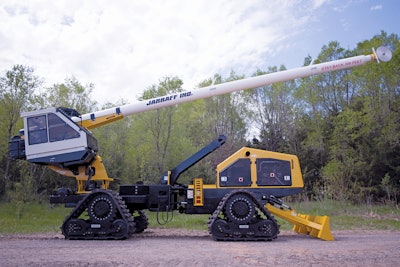 Tree trimming is a challenging job in the best of circumstances and Jarraff Industries has introduced a new quad track model of its All-Terrain Tree Trimmer to make that work more productive.
The quad track design maximizes traction and minimizes ground pressure to keep crews moving in soft underfoot conditions, yet the machine is roadable as well. A rotating saw head allows you to turn the blade 180 degrees, and a touch screen info center display monitors engine performance and gives a high definition camera view of the work. Four-way joysticks and fingertip controls add precision to your work.
The Jarraff All-Terrain Tree Trimmer reaches 75 feet in height and provides lateral tilt. A rotary manifold offers a 360-degree-plus range of motion. A 130 horsepower Cummins engine powers the unit. To keep your operators safe, cabs are ROPS, FOPS and OPS certified.