The wide-eyed talk at the American Rental Association Show was Toro's acquisition late last week of the Charles Machine Works, parent company of the Ditch Witch brand.
In a press conference at the ARA Show, the two companies discussed what prompted the buy and how the two companies plan to transition into one company.
About a year and a half ago, a discussion at an Association of Equipment Manufacturers meeting started the process that ended last week when Toro announced that it had bought CMW, says Toro Chairman and CEO Rick Olson. "We basically told them if you're ever interested… ."
Although CMW had received several offers and inquiries in the past, says Rick Johnson, CMW CEO, "this is the first time we took any of them seriously."
Johnson continued: "We echo the sentiments about this being an exciting time for both companies. It is a perfect fit."
But the decision did not come without a great deal of heart searching for the family members, including Tiffany Sewell-Howard, executive chair of CMW, who took over the helm of the company from her grandfather and company founder Ed Malzhan in 2003.
"The emotional roller coaster of selling the family business that had been in the family for 100 years was at times emotionally gut wrenching," Johnson made clear. "In the end, this is the right decision, and the future for Charles Machine Works as the 'Underground Authority' is bright."
"Our intention is to manage all the brands of both the Charles Machine Works, including Ditch Witch, and the Toro brands in a dual-brand strategy, " says Rick Rodier, Toro vice president and general manager who will be assuming responsibilities for former CMW products in the transition. "There's no intention of taking current models away or making a model that is currently orange red and vice versa. We're thrilled to add Ditch Witch and the other brands to our portfolio of brands."
"It was an up and down process for the Malzahn family," admits Johnson, "but in the end they stood together, we feel that the Toro company could take it to a level that we probably couldn't on our own in terms of access to capital and talent. We feel like this is the next chapter of Ditch Witch and Charles Machine Works."
Reaching out to dealers
CMW reached out to its dealer network via a conference call the Friday morning of the announcement, Johnson tells Equipment World. "They told us that they knew it probably was going to happen someday and they were glad we picked someone who need more distribution," Johnson says.
Following the conference call, company executives also called each dealer individually to hear concerns about such things as dealer discounts and warrantees.
The deal is expected to be finalized by the end of July, which is also the end of Toro's fiscal third quarter.
Our parent company, Charles Machine Works, has agreed to be acquired by The Toro Company. Our plant is staying right here in Perry, Oklahoma, and will become Toro's largest manufacturing facility worldwide. #DitchWitch #StillOrangehttps://t.co/jVQN7l3JCg

— Ditch Witch (@ditchwitch) February 15, 2019
In an analyst's call on Friday, Rick Olson, chairman and CEO of Toro said that CMW and Toro had similar sales mix, with approximately 75 percent of sales domestically and 25 percent internationally. "One of the things that matches up well between the two companies is the value placed on relationships with channel partners," Olson said. The importance of dealers to success of company was conveyed "very early on" and offers "great alignment with how we feel about our channel as well," Olson said.
CMW has a strong Ditch Witch brand presence in its dealer network, with dealers are typically identified as "Ditch Witch of [location]." According to the company, Ditch Witch dealers operate in 175 locations in more than 100 countries.
Olson also said that current Ditch Witch CEO Rick Johnson would stay on board but will "transition his responsibilities" as a Toro person becomes responsible for the CMW brands.
Product mix of Toro, Ditch Witch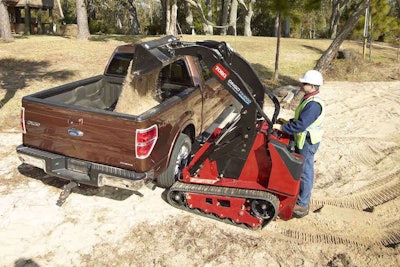 In examining the data from the 2018-19 Equipment World Spec Guide, it's clear that the CMW buy gives Toro depth in both directional drills and trenchers, while Toro has strength in compact utility loaders, also called compact toolcarriers. Toro celebrated the 20thyear of the Dingo line with the introduction of Dingo TXL 2000 at last year's American Rental Association show.
The Ditch Witch SK line of compact utility loaders, however, is popular with Ditch Witch dealers.
In directional drills, Toro offers just two models: the 22,000-pound max pullback DD2226 and the 40,000-pound max pullback DD4050, introduced at the ICUEE show in 2013 and after the company bought the vibratory plow, trencher and small horizontal drill lines of Astec Underground from Astec Industries in 2012. Later in 2012, CMW bought the American Augers brand from Astec Industries, which gave it models above 100,000 pounds max pullback, The company currently offers models ranging from 5,000 to 1.1 million pounds max pullback.
The two companies have competed the longest in trenchers, where Toro has five models ranging from 16 to 121 horsepower. CMW's offering was broadened by its acquisition of Trencor brand, also part of the 2012 buy from Astec, and the company now offers trenchers ranging from 11.7 horsepower to 950 horsepower.
Below are the comparison specs for Toro's and CMW's offerings in directional drills, compact utility loaders and trenchers from the 2018-19 Equipment World Spec Guide. (Note: Due to publication date, It does not include models introduced in the last five months of 2018.)
Directional Drills
Make
Model
Max pullback (lbs)
Max thrust (lbs)
Unit length of drill pipe (ft/in)
Operating weight (lbs)
Up to <10,000 lbs
pullback
Ditch Witch
JT5
5,000
4,100
4′ 9″
3,690
10,000 to <20,000
lbs pullback
Ditch Witch
JT10
10,000
9,000
6′ 0″
7,100
20,000 to <30,000
lbs pullback
Ditch Witch
JT20
20,000
17,000
10′ 0″
11,890
Toro
DD2226
22,000
22,000
10′
9,485
Ditch Witch
JT25
27,000
27,000
9′ 8″
20,200
30,000 to <40,000
lbs pullback
Ditch Witch
JT30
30,000
24,800
9′ 8″
22,575
Ditch Witch
JT30 All Terrain
30,000
24,800
9′ 8″
22,655
40,000 to <55,000
lbs pullback
Ditch Witch
JT40
40,000
40,000
15′ 0″
28,750
Ditch Witch
AT40 All Terrain
40,000
40,000
15′ 0″
21,600
Toro
DD4050
40,000
40,000
10′
21,620
55,000 to
<100,000 lbs pullback
Ditch Witch
JT60
60,000
60,000
15′ 0″
31,250
Ditch Witch
JT60 All Terrain
60,000
60,000
15′ 0″
31,250
100,000 to
<200,000 lbs pullback
Ditch Witch
JT100
100,000
70,000
14′ 8″
45,300
Ditch Witch
JT100 All Terrain
100,000
70,000
14′ 1″
47,260
American Augers
DD-110
110,000
110,000
20′ 0″
47,000
200,000 to
<500,000 lbs pullback
American Augers
DD-240T
240,000
240,000
34′ 0″
84,600
American Augers
DD-440T
440,000
440,000
34′ 0″
95,400
500,000 lbs pullback
and over
American Augers
DD-660RS
660,000
660,000
34′ 0″
100,300
American Augers
DD-1100 RS
1,100,000
1,100,000
34′ 0″
113,000
---
Compact Utility Loaders
Make
Model
Standard operating load at 50% of
tipping load (lbs)
Rated operating load (lbs)
Tipping load, standard (lbs)
Gross power (hp)
Operating weight (lbs)
up to <601 lbs
standard operating load @ 50% of tipping load
Toro
323 Dingo
515
515
1,030
23
1,567
Toro
320D Dingo
524
524
1,048
20
1,722
601 to <801 lbs
standard operating load @ 50% of tipping load
Toro
TX 427 Narrow Track
765
535
1,530
25
1,882
Toro
TX 427 Wide Track
765
535
1,530
25
1,990
Toro
TX 525 Narrow Track
790
553
1,580
23.3
1,904
Toro
TX 525 Wide Track
790
553
1,580
23.3
2,013
801 to <976 lbs
standard operating load @ 50% of tipping load
Ditch Witch
SK600
863
600
1,725
24.8
2,418
976 to 1,500 lbs
standard operating load @ 50% of tipping load
Ditch Witch
SK800
1,233
860
2,465
24.8
2,926
Toro
TX 1000 Narrow Track
1,428
1,000
2,857
24.9
2,610
>1,500
lbs standard operating load @ 50% of tipping load
Ditch Witch
SK1050
1,518
1,062
3,035
36.9
3,435
Toro
TX 1000 Wide Track
1,535
1,075
3,071
24.9
2,790
Ditch Witch
SK1550
2,225
1,558
4,450
43.5
3,990
---
Trenchers
Make
Model
Gross engine power (hp)
Operating weight (lbs)
Max cutting depth (ft/in)
Cutting width, min-max (in)
Under 14 gross hp
Ditch Witch
C12X
11.7
1,360
2′ 0″
4″ – 6″
Ditch Witch
C14
13.5
1,191
2′ 0″
4″ – 6″
14 to <18 gross
hp
Ditch Witch
C16
16
1,528
2′ 6″
4″ – 6″
Ditch Witch
C16X
16
1,895
3′ 0″
4″ – 6″
Toro
TRX-16
16
1,100
4′ 0″
6″
18 to <40 gross
hp
Ditch Witch
C24X
22
1,915
3′ 0″
4″ – 6″
Toro
TRX-26
26
1,248
4′ 0″
8″
Ditch Witch
Zahn R300 2WD
30
1,048
3′ 0″
4″ – 8″
Ditch Witch
Zahn R300 4WD
30
1,290
4′ 0″
4″ – 12″
Ditch Witch
C30X
31
2,100
4′ 0″
4″ – 6″
Toro
ProSneak 365
35.5
2,930
3′ 6″
4″ – 6″
Ditch Witch
ST37X
37
4,110
3′ 0″
6″ – 16″
40 to <51 gross
hp
Ditch Witch
RT45
48.8
5,375
5′ 3″
6″ – 12″
51 to <76 gross
hp
Ditch Witch
RT55
62
12,000
5′ 2″
6″ – 12″
Toro
RT600
65
8,500
6′ 0″
6″ – 16″
Ditch Witch
RT80
74
20,370
7′ 8″
6″ – 24″
Ditch Witch
RT80 Quad
74
19,100
5′ 2″
6″ – 24″
76 to <130 gross
hp
Ditch Witch
RT105
107
22,000
8′ 1"
6″ – 24″
Ditch Witch
RT125
121
22,000
8′ 1"
6″ – 24″
Ditch Witch
RT125 Quad
121
27,200
7′ 9"
6″ – 24″
Toro
RT1200
121
13,750
7′ 0″
6″ – 16″
300 to <400 gross
hp
Trencor
T1060
350
90,000 – 110,000
12′ 0″
12″ – 36″
Trencor
T1060
375
90,000 – 110,000
12′ 0″
12″ – 36″
400 to <600 gross
hp
Trencor
T13
475
127,000 – 173,000
18′ 0″
16″ – 48″
Trencor
T13
509
127,000 – 173,000
18′ 0″
16″ – 48″
600 hp & over
Trencor
T14
617
236,000 – 278,000
20′ 0″
28″ – 54″
Trencor
T14
630
236,000 – 278,000
20′ 0″
28″ – 54″
Trencor
T16
950
240,000 – 320,000
30′ 0″
28″ – 60″
Trencor
T17
950
246,000 – 326,000
30′ 0″
28″ – 72″