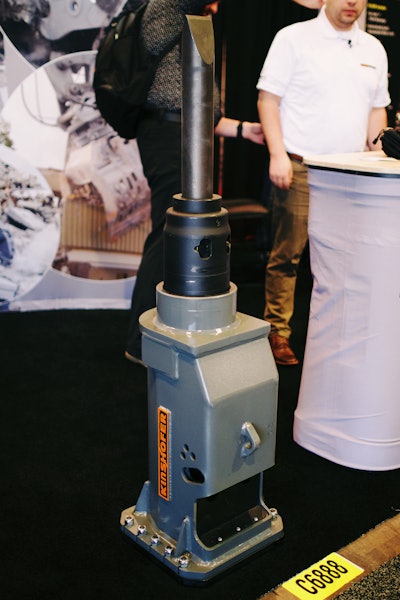 Thanks to an acquisition finalized Wednesday morning, Kinshofer has introduced a full range of hydraulic breakers at the World of Concrete show in Las Vegas.
During an interview Wednesday, Danny Martin, territory sales manager for North America, says Kinshofer initially approached Hammer, an Italian manufacturer of excavator attachments for demolition, recycling, material handling and excavation applications, to form a partnership. The partnership would focus on the development of Kinshofer breakers, which, up until this point, the company had not offered.
In the end, Martin says Kinshofer decided to acquire the company instead. "Our business is so good all around the world that we are at the point where we need more factory space," Martin says, adding that the Hammer factory in Italy impressed Kinshofer and can deliver a new breaker to the U.S. in less than a week.
Plus, he says Hammer breakers had the complete feature set Kinshofer customers had requested. Martin adds that before the deal was finalized, Kinshofer sold several Hammer-manufactured Kinshofer hammers to get some feedback from customers, which was very positive.
Another factor of the deal, Martin says, was Hammer's line of demolition tools, which are less expensive than Kinshofer's and represent an entry level option for customers that Kinshofer didn't have before.
Comprehensive lineup
The new Kinshofer breaker range is comprised of 23 models across two series: KFX and KSB.
Martin says the Hammer brand will be retained on breakers sold in Europe. In North America the Kinshofer name will be used.
The KSB breakers, for excavators from half a ton to 12 tons, feature a single-piece, "monobloc" construction that has no tie rods. Kinshofer says this design makes the structure of the breaker resistant to linkage strain during operation, while the tapered shape allows for greater visibility during operation and for close operation to walls. KSB breakers work with nitrogen energy recovery, a gas Kinshofer says provides more machine power and less stress on the excavator arm. KSB breakers are also soundproofed for a low noise level.
KFX breakers, for excavators from 8.5-220 tons, features two standard adjusting valves. A control valve on the cylinder of the hammer allows an operator to adjust the number of blows generated, Kinshofer says. The second valve allows for the adjustment of the working pressure from 160 to 200 bar.
The KFX breakers feature several longevity and maintenance focused features including:
Inner pipes for direct greasing of the lower bushing and spacer, improving the lifespan of the retainer pins and bushings.
Greasing can be controlled from within the cab or automatically through the vibration of the hammer.
An integrated air filter and a non-return valve in the back head and chuck housing that eliminate the "inflating" phenomenon caused by the up and down movement of the piston, creating an automatic dust prevention effect.
The breakers are backed by Kinshofer's two-year warranty.