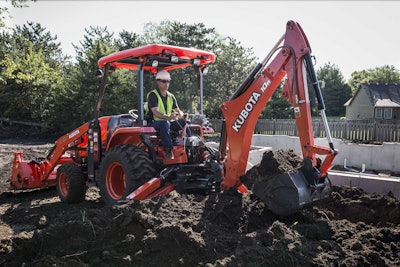 Harry Yoshida will become the next president and CEO of Kubota Tractor Corporation and Kubota North America.
Yoshida will start his new position January 1. He is currently based in Osaka, Japan, as the managing executive officer, GM of farm and industrial machinery domain, strategy and operations. He has worked in the United States in various positions for Kubota during his 37-year tenure with the company.
Current President and CEO Masato Yoshikawa has been promoted to director and senior managing executive officer, GM of planning and control headquarters, GM of global IT management. He will be based in Osaka, Japan, and start his new job at the beginning of the New Year.
Yoshikawa has served as CEO in North America since 2013 and "has successfully led the company through considerable growth, change and technological advancements during his five-year tenure in the U.S.," a company news release says.
Yoshida will lead the North American subsidiary into a new phase of growth, the company says.
"We are committed to diversifying our product lines and expanding our infrastructure to better meet the needs of our customers and dealers, and I am confident we will continue to further strengthen the Kubota brand in the U.S. marketplace and throughout North America in the process," Yoshida says.
This has been a busy year for Kubota announcements in North America.
The company announced earlier in the year that it bought land in Kansas and Texas for expansion projects.
The company bought 318 acres in Ponder, Texas, over the summer for its future Kubota Ranch, designed to improve its relationship with dealers and expand the company's research and development. The ranch will be used for testing, operating, demonstrating and training on the company's equipment, as well as unveiling new products to dealers there.
The same week as the ranch announcement, the company said it had just completed the purchase of 200 acres in Edgerton, Kansas, to add two logistics facilities of 1 million square feet each at a cost of $87 million. Kubota says the new North American Distribution Center will allow it to expand distribution capacity and streamline logistics for the speedier delivery of its parts and equipment in the United States, as well as be a source for the company's global exports.
Yoshida will be based in Grapevine, Texas, about 30 miles from the future Kubota Ranch. Kubota moved its North American headquarters to Grapevine from Torrance, California, in 2017.