During the World of Concrete 2018 show in Las Vegas last week, Kubota unveiled two new mini excavators in a three-ton model, the KX033-4 with extendable dipper arm, and a tight tail swing model, the U27-4.
Both machines are powered by Kubota engines with an auto downshift feature. As the name suggests, auto downshift automatically downshifts the machine from high to low, depending on traction and terrain.
Here's the breakdown on both new machines.
KX033-4 has more capability than its size suggests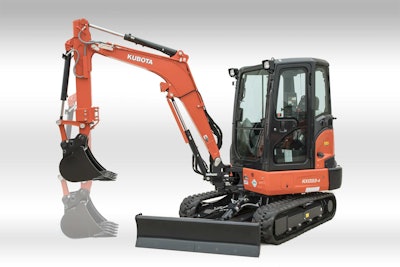 Kubota calls the new KX033-4 "ideal for those hard to reach areas." The company says the three-ton machine is a brand new configuration that boasts the reach and dig depth of a heavier weight class with an extendable dipper arm that can be quickly extended up to 31 inches.
The KX033-4 has a digging depth of 12 feet, 2 inches and a digging reach of 18 feet, 3 inches.
In addition to auto downshift, the engine on the KX033-4 also features auto idle which automatically idles the engine when the control levers are in neutral for more than four seconds. If the operator moves any lever, the original RPM is resumed.
The enclosed cab of the machine features easy-open front glass windows, a deluxe suspension seat, cup holder, wrist rest and air conditioning.
The KX033-4 is available now at Kubota dealerships.
U27-4 boasts best-in-class reach and dig depth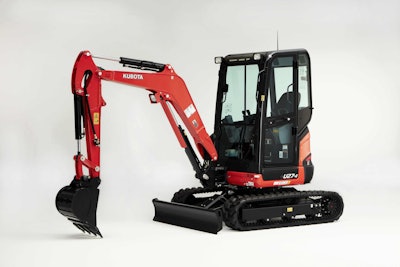 Kubota's new U27-4 is a new tight tail swing model that will replace the company's U25S model.
With a digging depth of 9 feet, 5 inches and a digging force of 7,014 pounds, the U27-4's two variable displacement pumps allow operators to simultaneously operate the pilot controlled boom, arm, bucket and swivel.
A third-line hydraulic return on the machine, "allows oil flow directly to the tank when working with one-way hydraulic attachments such as a breaker or brush cutter; this simple flow return system provides greater flow efficiency, reduced back pressure and less heat, " Kubota says.
The optional enclosed cab on this machine features a wider entrance, front meter panel, front side window, more leg room and more floor space. The cab also features a gas-assist mechanism on the window.
The U-27-4 will be available at Kubota dealerships this spring.