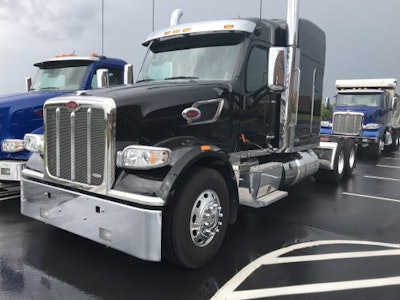 Peterbilt debuted its Model 567 Heritage two years ago as a modernized throwback to the working trucker and the truck has found a niche with fleets looking for a reward truck for their top drivers.
With its bling-heavy blocky exterior, the vocational workhorse blends classic Pete styling with modern comforts and efficiencies.
The exterior is a truck stop showstopper with subtle Heritage badging a much less subtle use of chrome. A chromed air intake bezel and hood latches; mirror-finish bright bright bumper, grille bars, exhaust stacks, mirrors and sun visor; and polished rocker panels, quarter-fender closeout panels, fender brace and brackets, battery boxes and fuel tanks give the truck a strikingly unique visual profile. Headlight pods make bulb replacement easier while also contributing to the classic look.
Inside, the truck features Heritage Brown interior with a black dash top and wood-finish trim, brown leather seats with accent stitching and door pads with brown wood trim.
The truck is configured with a 121-inch BBC set-forward front axle to optimize payloads and weight distribution and is available as a day-cab or with a 72- or 80-inch sleeper. Trucks equipped with a sleeper include wood trim accents on the sleeper cabinets and storage spaces. The limited-edition interior is rounded out with a two-tone sleeper back wall embroidered with the Heritage logo.
With its ultra-plush premium cabin, the Model 567 Heritage appeals heavily to drivers who want to play long-haul cowboy trucker but don't want to sleep fireside in the tent.
From the outside the truck looks like a classic, but its smooth on-road mannerisms certainly don't drive like one.
My test unit for a roughly 60 mile jaunt from Columbus to just outside Starkville, Ms., featured Paccar's MX13 with an output of 510 hp and 1,850 lb. ft. of torque. I'll get a few cowboy points deducted for the Eaton Ultrashift Plus automated manual transmission – but it was an 18 speed!
Steering was tight and easy, and shifting was seamless with precision timing. The transmission's Electronic Clutch Actuator makes for smooth engagement.
The Skip Shift feature automatically jumps over unnecessary gears as the driver builds speed, helping increase acceleration to achieve cruising speed quickly and smoothly. It also lets the driver begin acceleration in the best-possible start gear based on load and grade.
Another benefit of the Ultrashift is that it gets the gear-shifter off the floor. Replacing the stick with dash-mounted selector buttons opens a lot of room between the front seats for a cooler and allows easier access to the refrigerator and the sleeper.
Old school trucks typically feature split windows but the Model 567 Heritage uses a panoramic single-pice windshield that provides a superior field of view.
Air disc brakes on the front and rear, SmarTire Tire Pressure Monitoring System, and SmartLINQ Remote Diagnostics add modern elements of safety and efficiency.
The factory-installed SmartLINQ offers fleets and drivers an instantaneous look at the truck's health with detailed diagnostics and recommended actions through a companion mobile app and web-based portal. The system monitors more than 750 engine and aftertreatment diagnostic codes.
For fleets already rolling newer more aero on-highway Petes – like the 579 – the Model 567 Heritage can be easily integrated into the same platform.
Trucking is an industry with a rich history, and the Model 567 Heritage is a comfortable way to embrace the most modern and comfortable parts of the legacy while paying appropriate respect to the drivers of bygone times.