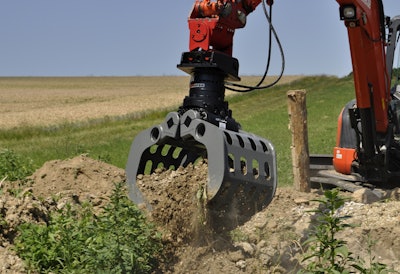 Kinshofer's new D-Series grapples feature a light, compact and flexible shell with no protruding parts, which helps avoid structural damage, and they have 360-degree endless rotation.
They are designed for excavators weighing 2 to 80 tons, for digging, sorting, loading and demolition.
The company says it added a variety of features to reduce maintenance and increase durability and gave it a compact design for working in tight areas, like urban demolition sites.
The D04HPX, D06HPX, D09HPX and D35HPX models are equipped with HPXdrive, a system that provides constant closing force without cylinders, grease points or short hoses. The HPXdrive has integrated self-lubrication and last up to 50 percent longer, the company says.
You can also choose D04H, D06H or D09H models with conventional heavy-duty hydraulic cylinders with hydraulic damping protection power.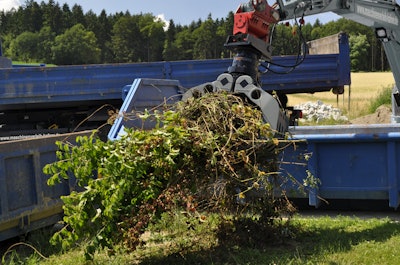 The grapple's dust-proof axle bearing points keep out dust and debris. Its perforated shell filters fine dust and gravel while keeping larger pieces in the shells. Side plates are available for loading sand and gravel. A compression rail adapter is also available for handling delicate materials, such as curbstones.
Pressure-relief valves prevent overloading, and a non-return valve keeps the load secured even if a pressure drop occurs, the company says.
Cutting edges are made of 500 HB steel that can be reversed to extend life and can also be exchanged.
The grapples come with a two-year warranty.