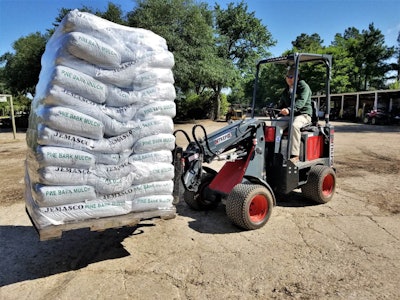 Sometimes all you need is a small machine.
The Texas based importer and distributor Miniloaders.com (formerly Compactgiant) has begun distribution of a new, articulated-steering mini-loader from Belgian manufacturer Knikmops.
The Knikmops KM100 Intrepid series will come in two flavors: the standard boom Intrepid KM100 and the Intrepid KM100 Tele, which comes with a telescoping boom. Bucket capacities range from 0.2 to 0.5 cubic yards depending on type. The standard boom reaches to 80 inches; the telescoping version goes up to 108 inches or 9 feet. These machines weigh 2,300 pounds, run on 25 horsepower Kubota engines, Poclain wheel motors and Bosch Rexroth hydraulics. Both models feature universal attachment plates with manual locking. Top travel speed is 11 mph.
Compared to a skid steer the Intrepid KM100 machines use less fuel, have a longer tire life and are easy to enter and exit. These qualities make them particularly well suited to landscaping and green industries, according to the company.
Fully spec'ed, cost is $36,000 for the Tele version and $33,000 for the standard boom.
For more information visit miniloaders.com.