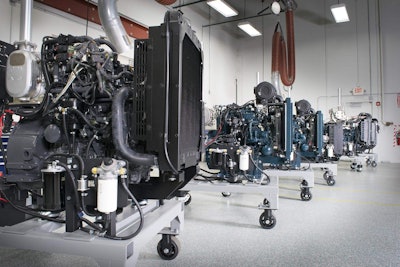 Kubota Engine America has opened a technical training center in Lincolnshire, Illinois, as a means of providing "educational opportunities" for dealer technicians.
The facility has 1,500 square feet of lab area and 3,400 square feet of classrooms.
The company recently held its inaugural sessions for technicians, which included a course on common rail Selective Catalytic Reduction (SCR) system with running engine stations. Course topics to be covered through the program include Diesel Power Tuning after treatments and SCR systems, spark ignited engines, legacy mechanically controlled engines and compression ignited engines equipped with common rail.
Kubota says the new center and the resources it provides gives the company the means to offer consistent training throughout its distribution network with the options of "e-learning" training and training led by instructors.
Online training, the company adds, will be a pre-requisite for classes that will primarily range from one to three days in length. Training will be mainly available to Kubota dealers and distributors, with non-dealer opportunities available by request.
"At Kubota, we saw a need to design a dedicated team and advanced space to make sure we are able to focus on training without fail," says Tom Amundsen, senior technical training engineer at Kubota. "The industry is evolving. Upgrades in technology require service technicians to place training and adapting as top priority, in order to meet these challenges. Now the new facility and improved curriculum allow us to create a rich learning experience with real-life application for our students."
The company reports the courses are designed to help students better understand Kubota products and engines in order to use them "more effectively and efficiently."
"It's our responsibility to provide superior training for our customers and distributors," Amundsen says. "The more we train and the more feedback we receive, the more we can continually improve. Great Kubota service starts with great Kubota training, and we really feel like that is the truth."
A member of the first training group, Scott Wiedenhoeft, vice president of Engine Power Inc., said his technicians have wanted more hands-on training and are excited to have the opportunity to go through training on different diagnostic tools and problem solving steps.
"All of this is possible at the new center," he says. "Our course was the perfect blend of instructor presentations and interactive exercises that took us through a variety of activities. It helped build confidence in our technicians by giving them the ability to work on Kubota machines and be guided by experts on-site."
"We appreciate all of the investment and focus Kubota has put into training," Wiedenhoeft adds. "They have been moving fast, adding knowledgeable people to the training team and increasing available content in the system."