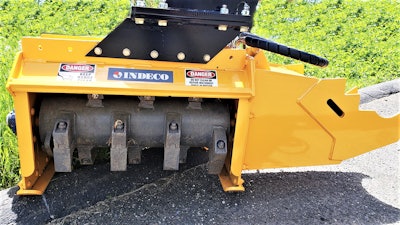 Designed to fit carrier machines from 5 to 50 tons, the new line of Indeco IMH mulching heads are available in 10 direct drive and belt-driven configurations.
The teeth deliver optimal cutting and  pulverize vegetation in a one-step process that returns material to the soil as mulch while protecting against wind and soil erosion.
The cutting heads are designed for a broad range of applications including land clearing, site preparation, invasive vegetation management and storm damage removal applications.
Hardox components and a single piece shaft, a heavy-duty drum and severe duty bearings maximize service life.