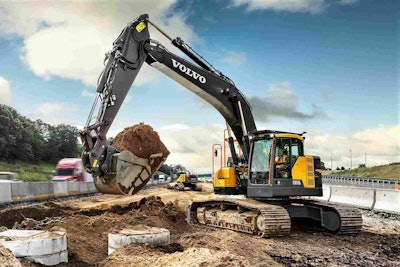 Boasting an 18-percent increase in horsepower and a 28-percent increase in torque over the ECR305C that it replaces, Volvo Construction Equipment's latest excavator model also represents a new size class for its excavator lineup.
Powered by 241-horsepower Volvo D8 Tier 4 Final engine, the new ECR355E is a 35-ton machine in a short swing design. (Full specs are below.) The company says the ECR355E is designed to carry out "heavy, high-production" jobs in tight spaces like highway jobs, that would normally only allow for the use of smaller less powerful excavators.
The machine features an electro-hydraulic system that not only provides smooth operation but has reduced fuel use by 10 percent over its predecessor, the ECR305C. Further fuel savings are made possible by auto idle and auto engine shutdown features along with an Eco operation mode.
Inside the new E-Series cab, operators will find several improvements over older Volvo excavators including: 10 percent more space, more ergonomic controls, improved front and side visibility, a wider entrance, radio with hands-free Bluetooth and a streamlined number of switches, down to 11 from 27. The cab also features a new cooling system with 44 percent more cooling capacity.
Rear-view and side-view cameras come standard on the ECR355E and Volvo also has plans to offer a system that adds two more cameras to the excavator to provide what the company calls "Smart View". Similar to competing systems from Hyundai and Komatsu, Volvo Smart View combines the images from the four cameras on the ECR355E to create a bird's eye view of the machine in order to give the operator full view of his or her environment. Smart View is displayed on the machine's 8-inch in-cab display.
Sejong Ko, Volvo's excavator product manager, says the new model can be used in everything from heavy infrastructure work to demolition and roadbuilding.
If you do opt to put this model to work in demo work, Volvo offers demolition packages with a range of available factory-fitted guarding options. Guarding includes boom and bucket cylinder guards, heavy-duty side doors, reinforced undercovers, slew ring protection, full track guard and cab-mounted Falling Object Guarding (FOG) packages.
Further options include a dozer blade, LED lighting package, and a two-piece boom which allows for digging closer to the undercarriage with improved visibility and lifting capacity in tight spaces, Volvo says.
Volvo is also offering an optional Steelwrist tiltrotator on the ECR355E, which allows operators to rotate attachments 360 degrees and tilt them side to side.
---
Quick Specs