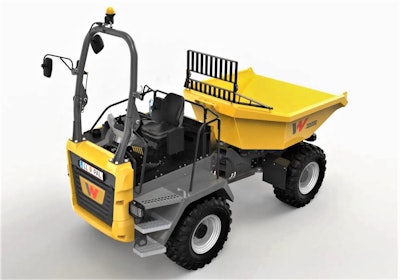 Two years after the company first unveiled the concept of a mini dumper with a rotating console, Wacker Neuson says an updated version of this unique compact machine could be on its way to the U.S.
At the 2016 Bauma show, Wacker Neuson offered media and attendees the first look at the DW50 rotating console concept. The mini dumper allowed the operator to face either the load or what is typically the rear of the machine by rotating the entire console 180 degrees.
On the 5-ton capacity prototype DW50 shown at Bauma, a rotating assembly was loaded beneath the seat and allowed for rotation in just a few seconds. Once rotated, the dumper operates like a small dump truck and eliminates the need for the operator to turn the whole machine around in tight spaces.
At the Intermat show in Paris last week, Wacker Neuson was showcasing the same type of machine, now dubbed the DW60 and with a larger 6-ton capacity. Operators can move forward for driving, then rotate to the rear for loading, unloading and backing up, explained Stefan Kurzmann, dumper product manager.
"It has very compact dimensions, and one of the best benefits is its easier and intuitive operation," he says.
Following the rotating console concept's unveiling at Bauma, Kurzmann followed up by visiting dealers and customers to see what requirements they wanted in the new dumper. The company incorporated that feedback into the new design, he says.
The next steps are 9- and 10-ton dumpers in development next year, the company says.
Wacker Neuson plans on releasing the rotating DW60 in 2019 and is looking to introduce the model to North America "in the future," the company says.