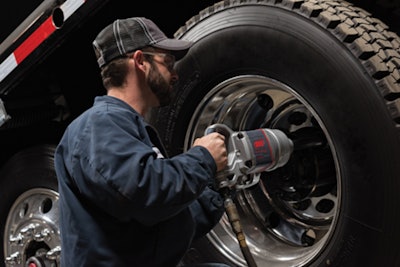 Ingersoll Rand says it has added "extreme torque" to its new lightweight 2850MAX 1-inch D-Handle Impact Wrench.
Weighing in at 21.5 pounds, the pneumatic impact wrench delivers up to 2,000 foot-pounds of forward torque, and 2,100 foot-pounds of reverse torque for loosening stubborn lug nuts on trailers, tractors and semitrailers. The wrench delivers 5,500 revolutions per minute and 770 blows per minute.
The tool's standard anvil handles a variety of heavy mechanical automotive applications, while an optional 6-inch anvil can remove bolts from deep tire wells.
The company also designed the wrench to lessen operator fatigue with its high power-to-weight ratio and 360-degree adjustable slide handle to accommodate the task at hand.
A swivel hose connection keeps hoses from getting tangled and allows the operator to move freely. The chemical-resistant housing and steel core are made to withstand harsh conditions and being dropped.