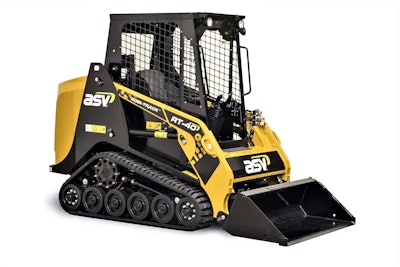 At just 4 feet wide, ASV's new RT-40 isn't the smallest machine in the company's Posi-Track lineup of compact track loaders. That distinction belongs to the RT-30, which has the same width but weighs 500 pounds less (and has a ground pressure of only 3.0 psi). Positioned between the RT-30 and RT-60, ASV says the RT-40 is designed to be a more attractive alternative to walk-behind and stand-on mini skid-steer loaders, which are becoming more powerful with each passing year.
"The industry has never seen power like this in a machine the size of the RT-40. It's a powerhouse," Justin Rupar, ASV's vice president of sales and marketing, said in a statement provided to Equipment World. "The machine features remarkable performance for its 4-foot width"
Aimed at rental, homeowners and contractors, ASV says the RT-40 offers ample power for smaller jobs in tight spaces and can handle things like snow removal and landscaping tasks with ease.
Posi-Track power
The machine is powered by a 1.8-liter Kubota Tier 4 Final engine that requires no regeneration, exhaust sensors or DEF and delivers 37.5-horsepower and 84.5 lb.-ft. of torque. The machine weighs in at 4,175 pounds and has a rated operating capacity of 931 pounds. Tipping load is 2,660 pounds and lift height is 8.4 feet. The loader can travel at speeds up to 7.1 miles per hour.
As it does with each Posi-Track model, ASV designed the loader frame on the RT-40 specifically for this machine. The dedicated frame provides the RT-40 with 10.8 inches of ground clearance which ASV says is not only higher than any walk-behind or stand-on loader, but also many larger CTLs.
The chassis provides 44 degrees of departure angle for climbing steep hills. Ground pressure generated by the RT-40 is only 3.5 psi thanks to the Posi-Track system's 12 contact points on this model. "This means more flotation and traction on steep, slippery and wet ground, giving contractors greater control and better pushing capabilities," ASV says. "The RT-40's large number of contact points and guide lugs also virtually eliminate the risk of track derailment."
A smooth turf track is an available option, minimizing the risk of damage to delicate lawns and golf course greens. Another option is a drive hub full-metal-face seal package which increases ROC to 1,008 pounds.
Variable auxiliary hydraulic flow is standard on the RT-40 with a 13.3 gpm pump capacity and 3,000 psi of system pressure. The company says the direct drive pump is the same one used on larger models up to 100 hp and eliminates belt servicing associated with belt-driven pumps. The cooling system on the RT-40 can also be found on some of ASV's larger models and allows the operator to use the machine at full load "100 percent of the time in ambient temperatures up to 118 degrees," and with large attachments.
Cab
Though stand-on mini loader makers like Toro are positioning their products as more convenient alternatives to skid steers and CTLs due to their hop on/hop off operation style, ASV insists that smaller CTLs like the RT-40 are safer and ultimately more productive thanks to the comfort of a cab.
The RT-40's pressurized ROPS/FOPS cab features large windows, a rearview mirror (or optional rearview camera), ample headroom for taller operators, heat, air conditioning, phone mount and a DC outlet. Hydraulic joystick controls come standard.
Serviceability
All maintenance points (filters, oil and fuel tanks and reservoirs, hydraulic and water separator drains, and the battery) are easily accessed via the RT-40's rear-tilting hood. An electric lift pump allows for easy priming and extended fuel filter life.
Operators can easily access the machine's drive pump since the fuel tank is located in the engine compartment rather than under the seat, ASV says. The drive hubs on the RT-40 will never require maintenance since they are sealed on the front and back with metal-face seals.
The company says its method of drive hose routing and chassis sealing mean reduced rubbing, fewer line leaks and more hose longevity than competing machines. The company offers a 2-year/1,500-hour warranty on the track along with a 1-year bumper-to-bumper warranty.