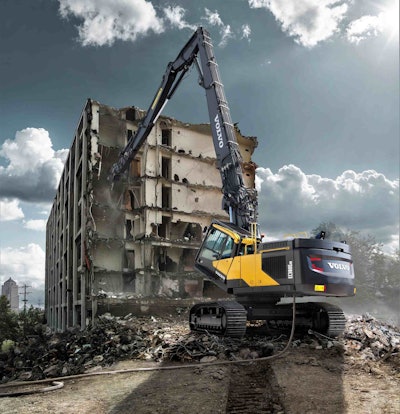 Despite the rough conditions some of these machines can face on a daily basis, Volvo has announced the extension of its lifetime frame and structure warranty to cover high-reach demolition and wheeled excavators.
The warranty covers the frame, boom and arm of Volvo excavators for the entirety of the initial ownership period, the company says. The extension means that Volvo's entire excavator lineup is now covered by the warranty along with articulated haulers, asphalt and soil compactors, wheel loaders, skid steers and compact track loaders.
New excavators covered by the revised warranty include the EC380EHR and EC480EHR high-reach demolition models. On the wheeled side, the new EW60E, EW160E, EW180E and EW220E are covered alongside the new short swing EWR150E and EWR170E. The EWR150E, EWR170E and EW220E were introduced earlier this month at World of Asphalt.
You can find more information on Volvo's Lifetime Frame and Structure warranty here.