The latest wheeled excavators from Volvo Construction Equipment were introduced earlier this month at World of Asphalt: the short swing EWR150E and EWR170E, and the conventional swing EW220E.
"Wheeled excavators are underutilized in North America, and contractors are missing out on the benefits they bring, especially in applications like road building and in urban utility work," says Matt McLean, product manager, wheeled excavators at Volvo CE.
"They can travel on their own up to 22 mph from site to site, even towing a trailer, rather than being loaded on a lowboy. Wheeled machines also have lighter footprints and don't damage hard surfaces like their tracked counterparts. That equates to less cleanup and lower labor costs. We really see these wheeled machines as an opportunity for contractors to rethink the way they're building their fleets."
Versatile for all spaces on the jobsite
The EWR150E and EWR170E offer short-swing radiuses, making them ideal for narrow and confined spaces, such as road jobs that require working within only one lane of traffic. At 67.7 inches, the EWR150E has the shortest tail swing radius of all Tier 4 Final excavators on the market.
The larger EWR170E is not far behind with a 70-inch tail swing radius, Volvo says.
For all three new excavators, Volvo offers a comprehensive portfolio of purpose-built attachments. For easy and efficient changes, the Attachment Management System stores flow and pressure settings for up to 20 different attachments.
To boost productivity, customers can opt for the factory-fitted Steelwrist tiltrotator, which allows for 360-degree rotation of the attachment, as well as 45-degree tilt from the left or right sides. This drastically reduces the amount of repositioning time on the job and allows for very precise digging around utilities. With a two-finger claw on back, the Steelwrist is also ideal for placing pipe.
High torque at low engine rpm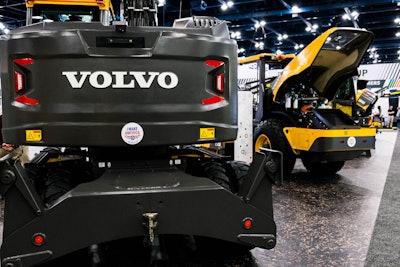 Powered by Volvo Tier 4 Final engines, the wheeled excavators offer high torque at low engine rpm. Other fuel efficiency features include automatic idling and automatic engine shutdown, which engage after a pre-set amount of time. These also help to reduce machine wear. Additionally, the proprietary ECO mode from Volvo reduces fuel consumption.
To boost stability when traveling at high speeds over rough terrain, the EWR150E, EWR170E and EW220E can be equipped with an optional Boom Suspension System (BSS). Complete with a hydraulic circuit and gas pressure dampers, the BSS helps absorb shocks that can unsettle the bucket load.
The EWR150E is available in two undercarriage types, tailoring the weight and drawbar pull of the machine to any application. To minimize weight, a welded undercarriage with a radial blade is available. For heavy-duty work, the machine can be configured with an EW160 class undercarriage, featuring bolted-on outriggers and a parallel blade. The EWR170E and EW220E have bolted undercarriages.
Volvo wheeled excavators are eligible for a free year of ActiveCare Direct, the Volvo telematics service that provides 24/7/365 machine monitoring and fleet utilization reporting directly from Volvo. ActiveCare Direct lets customers spend more time making informed fleet management decisions and less time sorting through data.
Easy to operate and maintain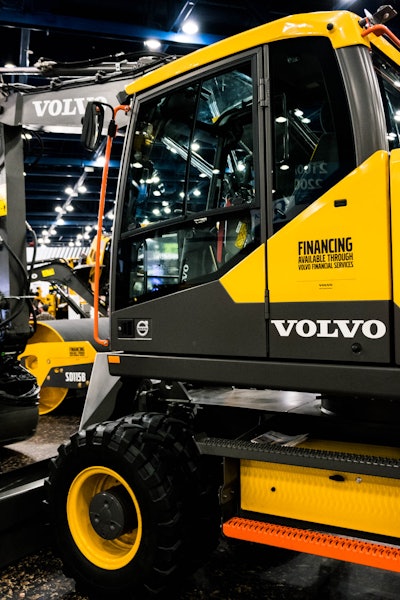 The wheeled excavators feature the industry-leading Volvo cab, designed with plenty of legroom and all-around visibility, thanks to large windows and standard rear and side view cameras. The redesigned upper frame offers a clear view to the right. The machines can also be equipped with the optional Volvo Smart View – "three cameras that create a bird's-eye view of the machine" that can be integrated into the machine's display or as a stand-alone screen.
Volvo wheeled excavators have been upgraded with proportional-controlled joysticks now standard, allowing for more precise adjustments and finesse with attachments. Accompanying that change, an advanced, L8 joystick is being released to provide Comfort Drive Control (CDC).
With CDC, the operator can steer the excavator using a roller on the joystick, and some models can be ordered without a steering wheel. The multifunction ability of the L8 joystick enables it to optionally control outriggers, blades, hydraulic cab risers and Steelwrist attachments.
On the entire E-Series wheeled excavator range, greasing points have been grouped together and filters placed behind wide-opening engine doors, all accessible from ground level. With improved access to areas such as the radiators and mesh, maintenance is made easy, helping operators stay on track, even when they are on wheels.
All Volvo wheeled excavators are now backed by the Volvo Lifetime Frame and Structure Warranty, which covers the frame, boom and arm for the entirety of the initial ownership period.
Key specifications
EWR150E
EWR170E
EW220E
Engine
VOLVO 4-cylinder Tier 4f
VOLVO 4-cylinder Tier 4f
VOLVO 6-cylinder Tier 4f
Tail swing radius
in
67.7
70
Breakout force
Lb-f
24,390
28,330
29,680
Max. digging reach
ft in
28'5″*
30'3″*
33'4″**
Max. digging depth
ft in
16'8″*
18'6*
20'9″**
Operating weight
ton
16.9 – 19.7
19.7 – 21.1
23 – 26.8
*8.0′ arm / 15'5″ arm / 2-piece boom
** 8'6″ arm / 2-piece boom