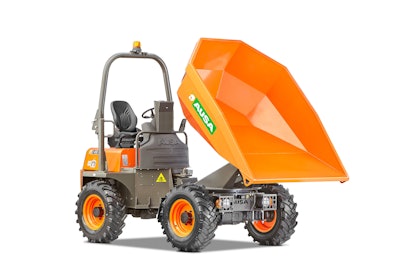 AUSA has boosted the load capacity of its new D450AHG articulated dumper and has focused on operator safety and visibility.
The 4×4, all-terrain vehicle features a load capacity of 9,900 pounds – up from 8,800 pounds on its predecessor, the D400AHG. The company says this is the highest hopper capacity on the market.
The D450AHG keeps the same dimensions as the D400AHG, which it replaces.
It runs on a 49-horsepower Kubota engine and has a two-speed hydrostatic transmission. It can go up to 13 mph.
The company says the dumper works well with compact excavators for loading and hauling dirt. It is also designed to increase speed and productivity in areas that are difficult to access, such as urban worksites, and on rough terrain.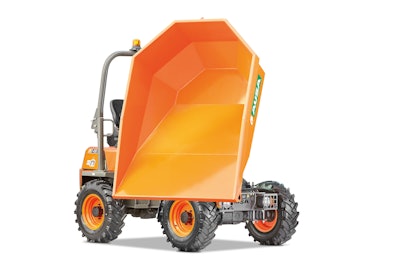 The dumper's hopper has been designed to improve the operator's visibility, and the rear counterweight gives the all-terrain vehicle greater stability when fully loaded, the company says.
The dumper's joystick controls forward and reverse direction, and lifts, lowers and rotates the hopper.
The cab has roll-over protection and wider access to the driving area. A closed cab is optional. The closed-cab option comes with the company's Full Visibility System, which provides rear and front views outside of the driver's direct field of vision. The system is composed of front and rear cameras with infrared night vision, eight obstacle sensors and a thin film transistor (TFF) screen in the driver's position.