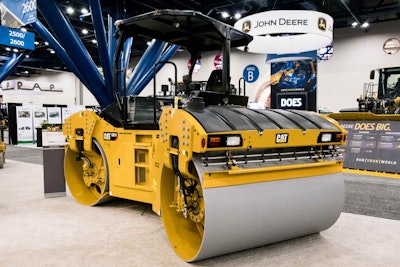 At the World of Asphalt show in Houston on Wednesday, Caterpillar unveiled the 13-ton CB13, the first of three new tandem vibratory roller models.
Expected to be available by the middle of this year, a 15-ton model, the CB15, and a 16-ton model, the CB16, will join the CB13 introduced at the show.
Oscillation now an option
The major feature to these new models is the option of an oscillatory vibration system on the rear drum. While the front drum compacts with vertical vibration, the rear drum's vibratory motion is created by a rotational movement of the drum, Cat's Bryan Downing explained during a press walkaround of the CB13.
"This particular movement massages the asphalt in a different way than our conventional vibration. It's a good solution for sensitive structures, and urban areas where vibration tends to transfer away from the machine and then into other things," he said. "It also brings benefit on thinner asphalt layers. In a typical mill and fill application where you're paving in maybe two inches or less it's a decent solution. If you get thicker than two inches I still recommend conventional vibration for that as it does bring different energy to the compaction process and yields quicker compaction."
Downing says Cat's oscillatory solution is a bit different from other manufacturers in that Cat's oscillatory system uses a power transmission belt to spin its eccentric weights.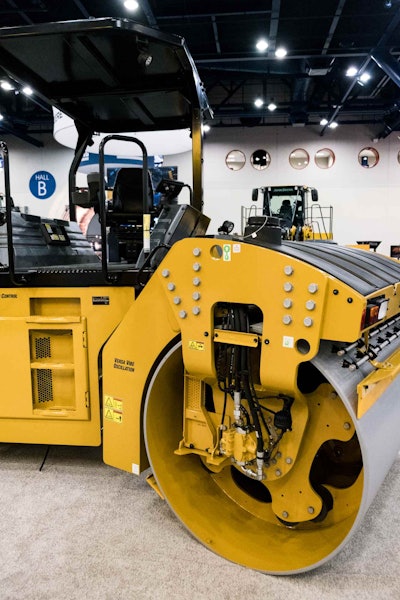 "Others use a timing belt, but the power transmission belt has two times the load carrying capabilities, so we expect two times the life," he said.
The oscillatory vibe system is a pod style with a service interval of 2 years or 2,000 hours. The conventional vibe system retains the 3-year, 3,000-hour interval from previous machines.
If you're not interested in adding oscillation, Cat offers four other vibratory options for these machines including Dual Amplitude, Dual Frequency, Versa Vibe and Five Amplitude.
Cat says Versa Vibe "creates a 2-in-1 machine with four amplitudes and two frequencies. This versatile system provides two settings for lighter hitting and higher working speeds on thin lifts; and two settings for heavier hitting, and slower speeds, on thick lifts or those with challenging mixes"
Five-amplitude, the company explains "offers the widest range of amplitudes with a single frequency, while the two amplitude, two frequency system offers simple thin lift, thick lift compaction with the flip of a switch.
If you do opt for equipping oscillation on the rear drum, the front drum's vertical vibration is available in two-amplitude, five amplitude or Versa Vibe.
Control refinements and technology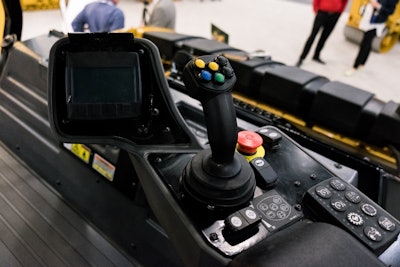 Downing says that Cat has also refined the controls on these three rollers through simplification of some of the push-button controls. The 8-button control panel rests inside a comfortable cockpit style operator's station with handwheel steering and the option of a 360-degree seat.
Cat also added intelligent compaction features like a fully installed accelerometer along with the company's temperature and pass mapping system, Cat Compaction Control, Downing said.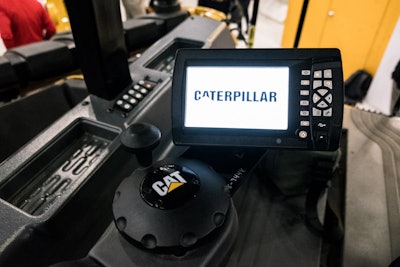 The system combines infrared temperature sensors with GPS mapping to allow the operator to see current mat temps, machine position, pass count and pass coverage in real time. And Cat says all of this data can be shared between the displays of multiple machines on the jobsite through Machine to Machine communication.
Cat says the system enhances nighttime rolling pattern performance while recording information for future process analysis and quality control documentation.
Engine and new hitch design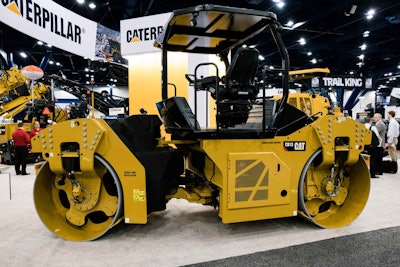 The CB13, CB15 and CB16 are powered by a Cat C4.4 engine rated at 142 horsepower. Eco-mode and automatic speed control are standard features.
The rollers also feature a new center-articulating hitch of 6 degrees of oscillation. Cat says this new hitch design ensures mat contact and a smoother ride over uneven surfaces. An optional offset hitch extends coverage up to 6 inches and simplifies control next to obstacles such as curbs and gutters.