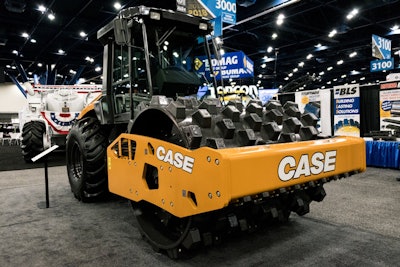 At the World of Asphalt show Tuesday, Case Construction Equipment launched two new rollers in the SV212D and SV216D. Only the SV212D was on display.
These single drum vibratory rollers are powered by a new 154-horsepower Tier 4 Final engine that delivers more torque than previous models.and are able to climb grades of up to 65 percent. The machines have an axle-free design with a low center of gravity, and a high-traction hydrostatic drive system which provides cosntant power to the wheels and drum with an electronic self-adjusting torque control system.
For even more traction, automatic traction control is an available option as is a more powerful HX drive designed for extreme conditions with increased torque and speed over the hydrostatic system that comes standard on these machines.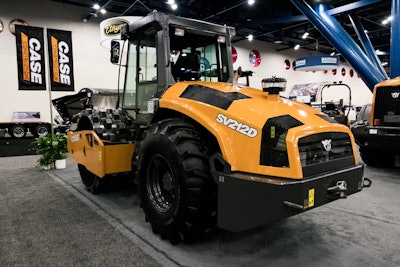 The rollers are compatible with both smooth and padfoot drums and Case says they offer "best-in-class centrifugal force."
An oscillating articulated roller joint maintains consistent drum-to-ground contact.
The rollers are available in open and cab configurations. The cab option features a refreshed enclosed design with several cues from the company's plus G-Series cabs. Operators will find an adjustable seat with up to 50 degrees of swivel and maximized rear visibility thanks to the sloped design of the rollers' rear deck.
Push-button controlled engine cover and cabin tilting provide easy service access at ground level to all fluid ports, drains, service checkpoints and filters.